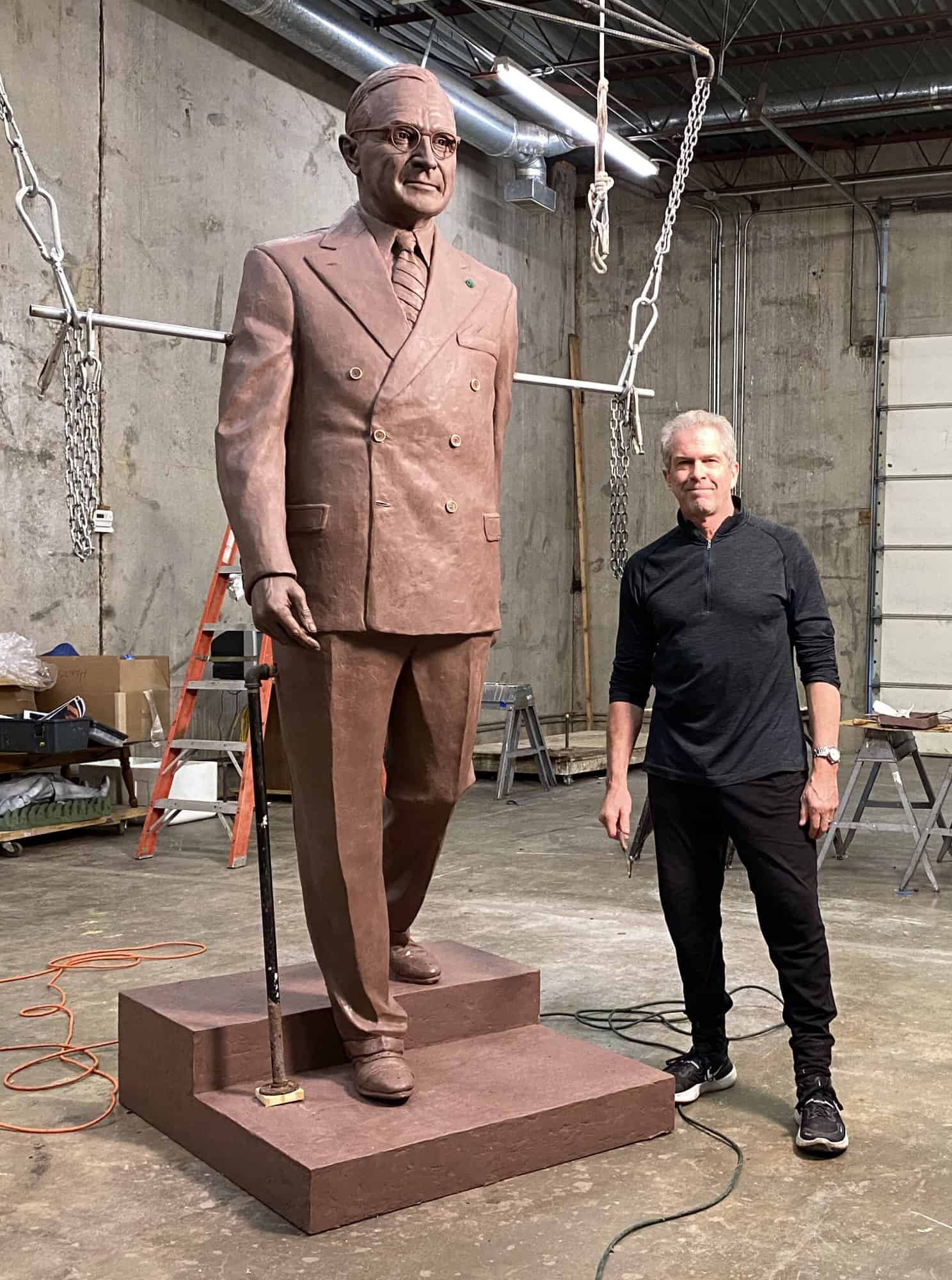 Announcement from Corbin Bronze
Tom Corbin's monumental bronze statue of President Harry Truman will be unveiled in the U.S. Capitol Rotunda on September 29th.
Truman is headed back to Washington DC! Corbin's 8 foot tall sculpture is being installed in the Rotunda as part of the Statuary Hall Collection. The formal unveiling event has been scheduled for September 29th at 3:00 p.m. ET by Speaker Nancy Pelosi's office.
Artist Statement, In Tom's words
"Had I been given the opportunity to sculpt Harry Truman much earlier in my art career, it could have resulted in a completely different statue, probably rendered in a more conventional, classic pose. I had done a number of representational figures over the years and had, in fact, begun turning down such commissions to pursue my current non-objective work.
"But this was Harry Truman, a President, someone Missourians and certainly Kansas Citians consider practically a neighbor. It would have been unthinkable not to respond to this invitation. Instead I focused on, 'What can I do that will really set this apart?' "
"After absorbing everything I could find about Harry Truman, I felt that this statue should embody Truman's personality—his character—as well as his likeness. I would use both his recognizable features and his body language to show the active, energetic man I discovered him to be. In so far as a sculpture can, I wanted it not only to look like Harry Truman; I wanted it to "act" like him too.
"This definitive Harry Truman statue would be both the Presidential figure that he certainly was and the approachable common man he saw himself to be. That's not as contradictory as it might seem. But it definitely reveals the influence of my Environments Series, sculptures that capture a certain tension, a moment in time, to give the viewer a sense of the statue's environment and his place in it. In Harry's case, that place is in history."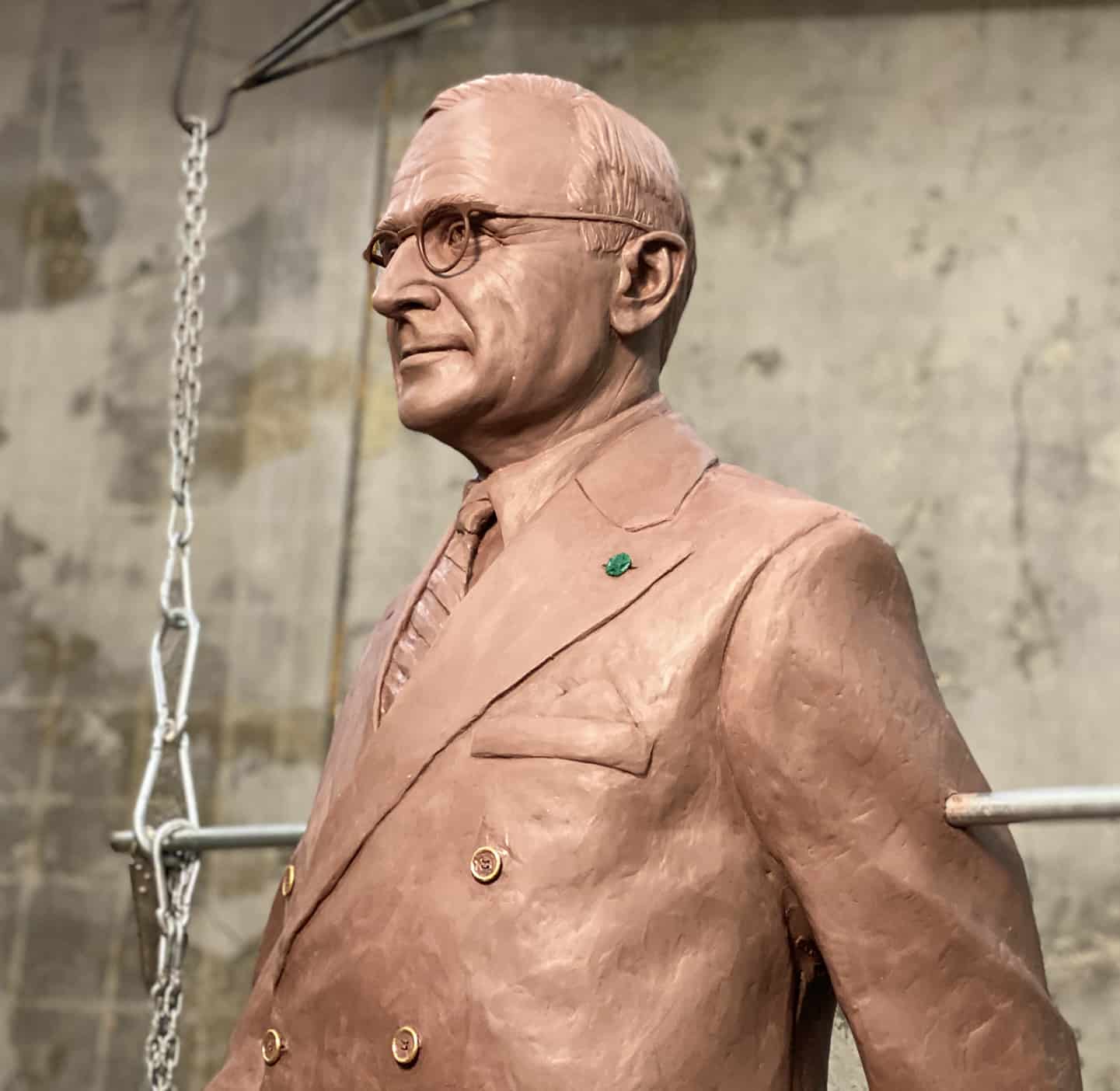 U.S. Representative Emanuel Cleaver II
"The world needs to know about this man from Missouri who did so much for this country… He is a giant, and giants must always be remembered."
U.S. Senator Roy Blunt (Mo.)
"President Truman's tenacity, character, and courage to confront difficult problems are values admired by his fellow Missourians and people who study our history."
Alex Burden, Executive Director, Truman Library Institute
"President Truman may be remembered largely in black and white, but he is a 21st century standard for presidential leadership and public service. His story is our story, America's story. Inheriting a global catastrophe after World War II, Truman shouldered the burden of leadership in a rudderless world with remarkable courage, integrity and humility. That's why it's a tremendous honor to lead this effort to bring Truman back to Washington more than 75 years since he boldly led our nation through some of the most dramatic and consequential chapters in America's history."
President Truman's statue will be the 10th presidential statue in the U.S. Capitol Rotunda. The seven and a half-foot bronze likeness will stand atop a three-foot inscribed pedestal in the Capitol Rotunda, flanked by George Washington and Ulysses S. Grant, along with fellow commanders in chief lining the Rotunda: Jefferson, Lincoln, Garfield, Jackson, Eisenhower, Ford and Reagan.
The Truman Statue Unveiling and Dedication on September 29, 2022 will not only honor Missouri's most prominent statesman but also be an incredible moment of celebration for all those who support and work on behalf of the legacy of Harry S. Truman.
About Truman Library Institute
The Truman Library Institute — founded by President Truman — spearheaded the Truman Statue Campaign to fund, create and install the new Truman statue for the State of Missouri, raising over $400,000 from donors across the country. The Truman Library Institute is the member-supported, nonprofit partner of the Harry S. Truman Presidential Library & Museum, one of 15 presidential libraries of the National Archives and Records Administration. The Truman Library Institute recently led a $41 million renovation of the Truman Library in Independence, Mo.
Watch the Truman video to learn more about this project
Truman Statue Campaign – Truman Library Institute