Harry S. Truman (1884-1972) was a U.S. senator from Missouri and served as president of the United States from 1945 to 1953.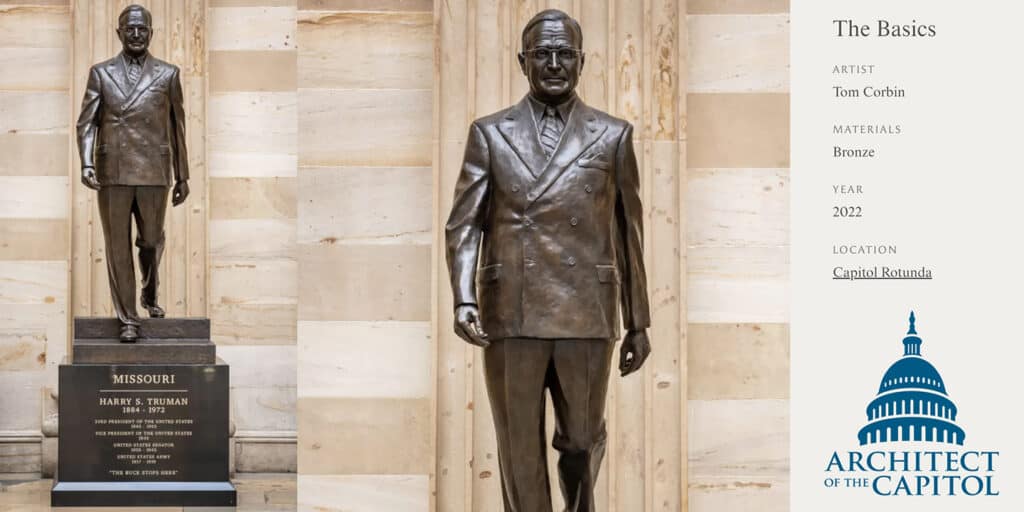 Missouri gave this statue of Truman to the National Statuary Hall Collection in 2022. Artist Tom Corbin (1954- ) took up modeling and bronze casting in his thirties and now sculpts, designs furniture and accessories, and paints.
Corbin depicts Truman in his sixties, as he was during the years of his presidency. Truman began his political career in Missouri and represented the state in the Senate from 1935 to 1945. President Franklin D. Roosevelt selected Truman as his vice-presidential running mate on the way to winning an unprecedented fourth term. Eighty-two days after taking their oaths of office, Roosevelt died, leaving Truman to serve as president during the final months of World War II. Truman won election to a full term as president in 1948. Major developments during his presidency included the formation of NATO, the start of the Cold War, establishment of a postwar economy, and racial integration of the armed services.
To activate the sculpture and communicate Truman's outgoing personality, Corbin shows him striding down several steps, moving forward as though to greet someone—a head of state, supporter, colleague, neighbor, or perhaps the viewer. Truman was known for his brisk daily walks, starting during his congressional service and famously continuing into his presidency and later years.
Coupled with the figure's animation, the bronze statue reflects Truman's attention to his attire. Truman had owned a men's clothing and accessories store for several years after WWI. During his presidency, he preferred a double-breasted suit with a precisely folded pocket square. His suits were generally tailored rather than off-the-rack. He took care to maintain a polished appearance, right down to the classic wingtips seen in this statue.
Corbin worked with the Truman Library Institute to perfect details like Truman's lapel pin and ring. Truman often wore his World War I service pin, and it is included in official White House portrait photographs. When the United States entered the war in 1917, Truman enlisted in the Army, serving first as an artillery instructor. In Europe, he earned his men's respect and distinguished himself as captain of an artillery battery. The ring on his left pinky is a Masonic ring. Truman was an active participant in Masonic activities and lodges in Missouri. To achieve the required level of detail for these elements, a jeweler replicated Truman's pinky ring and WWI service lapel pin, and Corbin incorporated them into the model for casting.
The statue of Truman is the second in the National Statuary Hall Collection to depict a subject wearing glasses. (Arizona's Barry Goldwater appears in glasses.) Truman wore glasses starting in childhood; the pair depicted here reflects the style he wore for his formal White House portrait.
The statue and pedestal together are 11 feet tall. The pedestal includes inscriptions on three sides. On the proper right side of the pedestal is the seal for the state of Missouri. On the proper left, the pedestal reads:
---
"America was built on courage, on imagination,
and an unbeatable determination to do the job at hand."
– Harry S. Truman
---
The front of the pedestal notes highlights from Truman's government service:
---
Harry S. Truman
1884-1972
33rd President of the United States
1945-1953
Vice President of the United States
1945
United States Senator
1935-1945
United States Army
1917-1919
"The Buck Stops Here"
---
Artist
Sculptor Tom Corbin (1954- ) enjoyed art as a child and took painting and drawing electives in college, but his first jobs were in sales and advertising. Through chance, Corbin began taking classes in sculpture and bronze casting. In 1986, he left office work and became a full-time sculptor. His early success came in functional art, and he continues to design bronze furniture and household décor as well as creating sculpture for galleries and commissions from his studio in Kansas City, Kansas. Corbin's work appears in over 20 museums, galleries, and showrooms. He has installed public art at sites including the United Nations, Florida State University, the University of Oregon, and the Kauffman Foundation. Corbin was selected over five other finalists to sculpt Truman for the National Statuary Hall Collection.
The Truman Library Institute oversaw the commission and assisted Corbin by providing Truman's measurements and clothing in addition to the more typical photographs from all angles. Corbin employed a 3D printer to fabricate several styles of eyeglasses and confirmed the final choice with Truman's grandson. Once the smaller maquette was enlarged, Corbin continued to work on the head and hands, spending six weeks on just the head. He used his own hands as models for the statue's hands.