Roo Sculpture by Artist Tom Corbin Settles Into New Home
Students, faculty and staff welcome new Roo to campus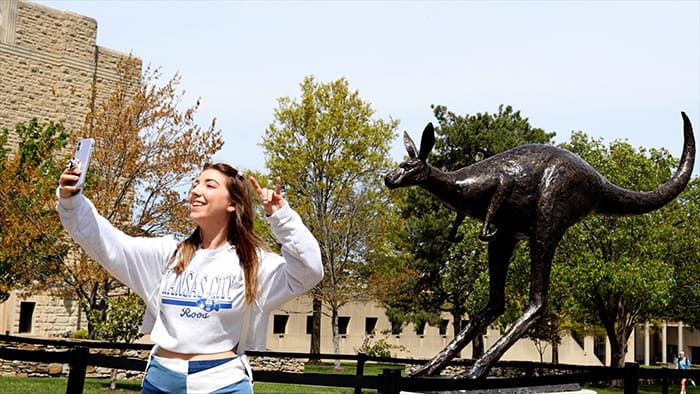 UMKC students, faculty and staff welcomed the newest UMKC Roo to campus in the first public event since the beginning of the COVID-19 pandemic.
Mahreen Ansari, UMKC Student Government Association president, introduced the Roo sculpture by artist Tom Corbin that stands proudly in the heart of campus on the University Walkway near the Miller Nichols Library and Learning Center.
"We are completing a circle that began 84 years ago, in 1937, when students at the University of Kansas City selected the kangaroo as our official mascot," Ansari said. "From Oregon to Ohio to Oz, you can find all manner of lions and tigers and bears, oh, my, but UMKC is one of the very few colleges or universities to proclaim our identity as proud, strong, faithful and dedicated Roos."
Chancellor Mauli Agrawal was thrilled to learn when he arrived at UMKC, that the kangaroo is one of the few animals in the world that cannot go backwards.
"(Roos) can only go forward. That's what makes this great animal such an appropriate symbol for our great university." – Chancellor Mauli Agrawal

Chancellor Agrawal delivers remarks at the Roo sculpture's unveiling event.
"They can only go forward. That's what makes this great animal such an appropriate symbol for our great university," he says. "And it's a rallying point. This statue stands as the physical embodiment of our shared identity. It is a statement of our shared history, and our shared determination to shape the future."
Corbin described his creative process that brought the Roo to life in bronze.
"My research into producing a sculpture of the Roo began years ago when I was approached to produce the Bloch School Alumni award," Corbin said. "Inspired by the more modern Roo logo, my sculptural adaptation for the award was to create something more artful, elegant and sleek.
The original inspiration has carried over to our monumental Roo that has found its new campus home today."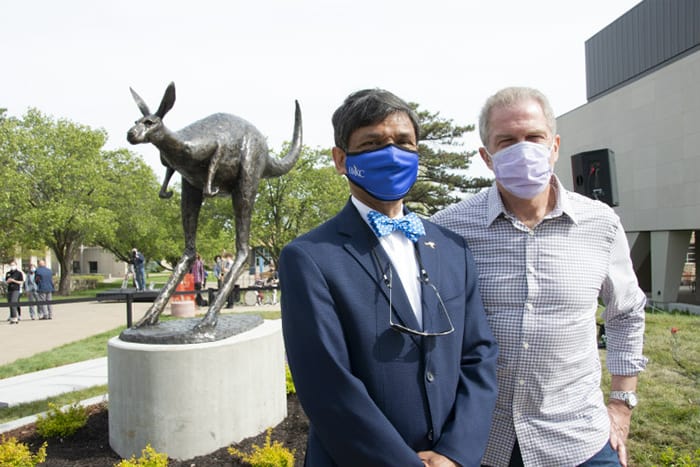 Brandon Henderson (Political Science '21) was student government association president when the anonymous gift was announced.
"It looks amazing!" Henderson said. "People are taking photos by it already. It looks as if it's been there a long time. You can tell it is going to age well."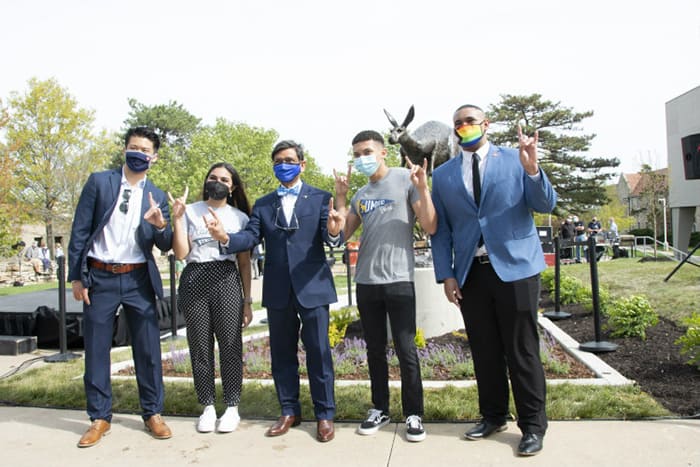 Grace Horacek (Fine Arts '23) came to see the unveiling with a group of friends.
"I work in the recreation center, and I saw the statue unloaded and really wanted to see it. It's definitely cool."