Molding a Life's Passion: Tom Corbin Continued
Written by Shannon E. Roesgen. Photos provided by Tom Corbin.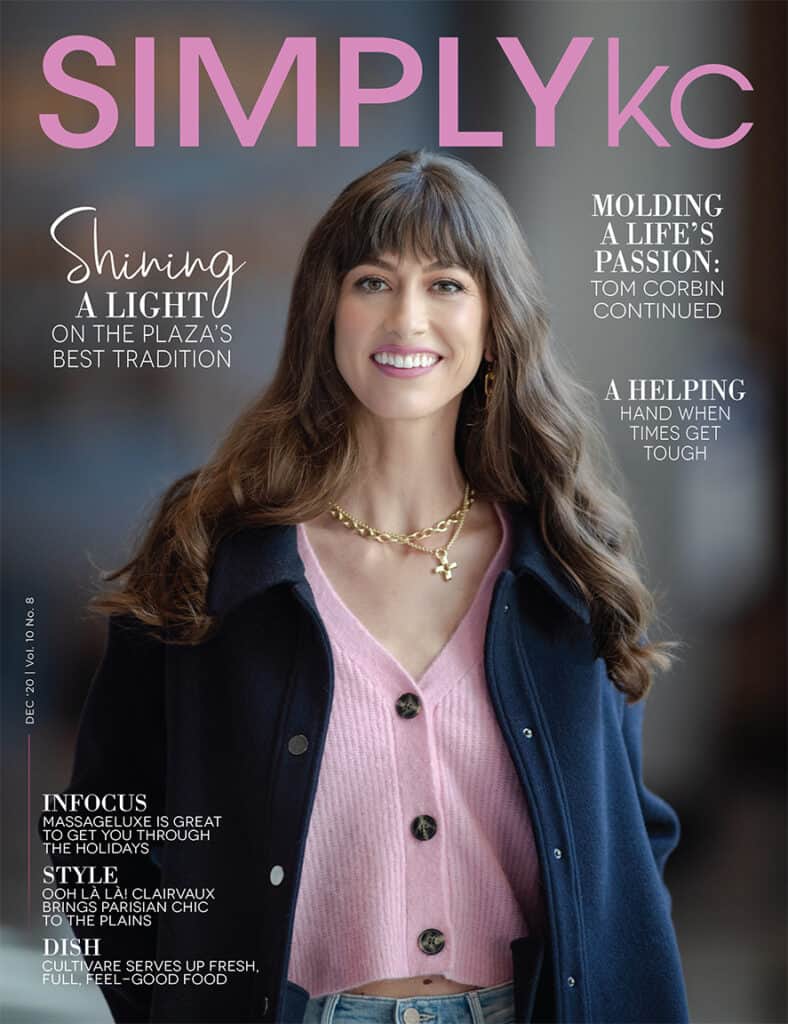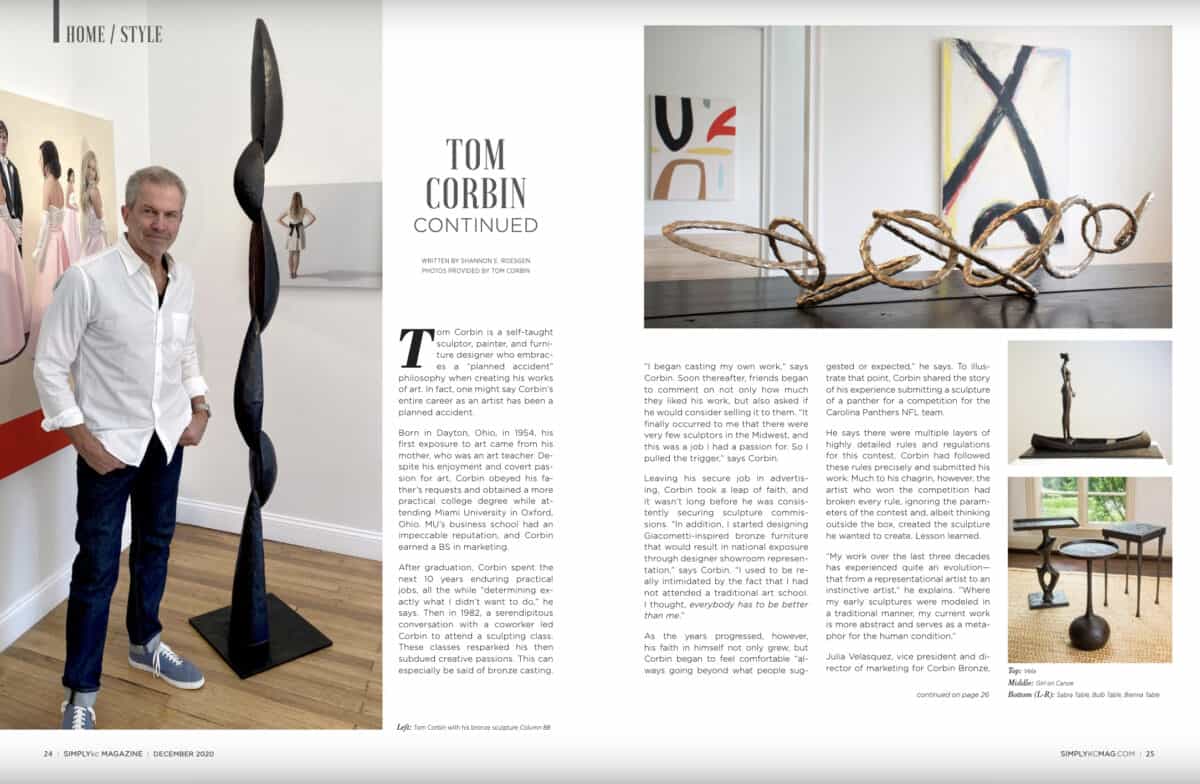 Tom Corbin is a self-taught sculptor, painter, and furniture designer who embraces a "planned accident" philosophy when creating his works of art. In fact, one might say Corbin's entire career as an artist has been a planned accident.
Born in Dayton, Ohio, in 1954, his first exposure to art came from his mother, who was an art teacher. Despite his enjoyment and covert passion for art, Corbin obeyed his father's requests and obtained a more practical college degree while attending Miami University in Oxford, Ohio. MU's business school had an impeccable reputation, and Corbin earned a BS in marketing.
After graduation, Corbin spent the next 10 years enduring practical jobs, all the while "determining exactly what I didn't want to do," he says. Then in 1982, a serendipitous conversation with a coworker led Corbin to attend a sculpting class. These classes resparked his then subdued creative passions. This can especially be said of bronze casting.
"I began casting my own work," says Corbin. Soon thereafter, friends began to comment on not only how much they liked his work, but also asked if he would consider selling it to them. "It finally occurred to me that there were very few sculptors in the Midwest, and this was a job I had a passion for. So I pulled the trigger," says Corbin.
Leaving his secure job in advertising, Corbin took a leap of faith, and it wasn't long before he was consistently securing sculpture commissions. "In addition, I started designing Giacometti-inspired bronze furniture that would result in national exposure through designer showroom representation," says Corbin. " I used to be really intimidated by the fact that I had not attended a traditional art school. I thought, "everybody has to be better than me."
As the years progressed, however, his faith in himself not only grew, but Corbin began to feel comfortable "always going beyond what people suggested or expected," he says. To illustrate that point, Corbin shared the story of his experience submitting a sculpture of a panther for a competition for the Carolina Panthers NFL team.
He says there were multiple layers of highly detailed rules and regulations for this contest. Corbin had followed these rules precisely and submitted his work. Much to his chagrin, however, the artist who won the competition had broken every rule, ignoring the parameters of the contest and, albeit thinking outside the box, created the sculpture he wanted to create. Lesson learned.
"My work over the last three decades has experienced quite an evolution- that from a representational artist to an instinctive artist" he explains. "Where my early sculptures were modeled in a traditional manner, my current work is more abstract and serves as a metaphor for the human condition."
Julia Velasquez, vice president and director of marketing for Corbin Bronze, says, "Tom has always embraced 'the figure' as his subject of choice; in particular, the female figure. His new figurative works have evolved to include the female in an environment (The Environments series), giving her a persona and a purpose. Women have always felt a connection to Tom's sculpted female. Whether that be to themselves for a friend or daughter, the result is one of emotional connection."
Halfway through his career, Corbin added painting to his list of talents. "In 2008, I began participating in a weekly painting session where one paints a life model in an hour. Confined by time, technique was suspended and thus liberated," he says. "Over time, this gallery showed an obvious evolution of style and became an ongoing invaluable reference source for paintings executed in the studio."
Corbin spent his first 23 years as a sculptor in the River Market. Then in 2009, he moved his studio to a historic firehouse in Rosedale, Kansas. While a brass fire pole still remains in this 1912 building, the firehouse is now a gallery, fully equipped with offices and an artist's studio. Corbin's work has appeared nationally in over 20 museums as well as individual collectors such as Nicole Kidman, Jack Nicholson, Alec Baldwin, and Tom Hanks. He also has had public installation sites, including the United Nations, Florida State University, The University of Oregon, and the Kauffman Foundation.
Also in KC, Corbin created the sculpture for the Children's Fountain in North Kansas City. He additionally has his work displayed at the Firefighters Memorial in Kansas City, Missouri; Overland Park Arboretum and Botanical Gardens in Overland Park, Kansas; and City Hall in Kansas City, Kansas, just to name a few.
Corbin was most recently awarded the commission to produce a bronze monument of President Harry S. Truman for Statuary Hall in the U.S. Capitol. He has also just published his second coffee table art book, Tom Corbin Continued.