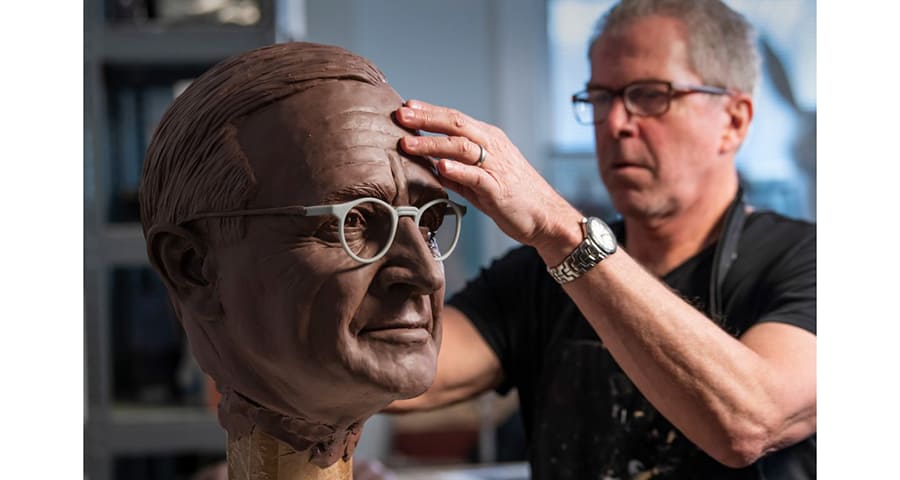 Each state gets to honor two citizens with statues in the U.S. Capitol in Washington, D.C. In 2022, one ofMissouri's contributions will be a statue of President Harry S. Truman.
Artist and sculptor Tom Corbin on Thursday stood in his Kansas City, Kansas, studio, next to a clay bust of former President Harry S. Truman. Tacked on the wall behind him were archival photos of Truman blown up to match the size of the finished piece — a 7 1/2 foot tall bronze sculpture.
"That's what I've been working on for the last three months," Corbin said. "Pretty much full-time."
In 2019, Corbin was selected from a pool of six artists who submitted proposals, and four finalists who gave presentations.
To prepare for the commission, Corbin read books about Truman and visited the Harry S. Truman Presidential Library and Museum in Independence, Missouri. He also took a trip to National Statuary Hall at the U.S. Capitol where, he said, he found the sculptures to be "pretty stiff" and "non-approachable."
"And Harry's personality was just the opposite," Corbin said. "He was a common man, a man of the people, always out to greet and shake your hand. And that's what I wanted to communicate with his pose."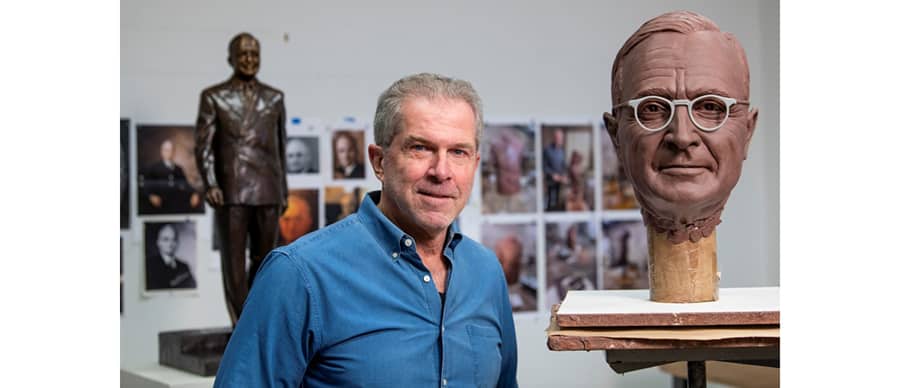 Corbin plans to travel to a foundry in Norman, Oklahoma, with Truman's clay head and hands. There, he will attach them to the rest of the clay figure and smooth the seams. After final approval, the foundry will go through the molding and casting process.
The resulting bronze statue is scheduled to be installed in the U.S. Capitol in 2022.
Each state recognizes two individuals with statues in the U.S. Capitol.
In 1899, two statues were placed in Statuary Hall to represent Missouri: five-time U.S. Senator Thomas Hart Benton (the great-great-uncle of the painter); and Francis Preston Blair, who served in the U.S House, as a U.S. Senator and as the Democratic nominee for vice president in 1868.
As a result of action in 2019 by Gov. Mike Parson, who validated a nearly 20-year-old vote by the Missouri legislature, Benton's statue is expected to be replaced with Truman's statue.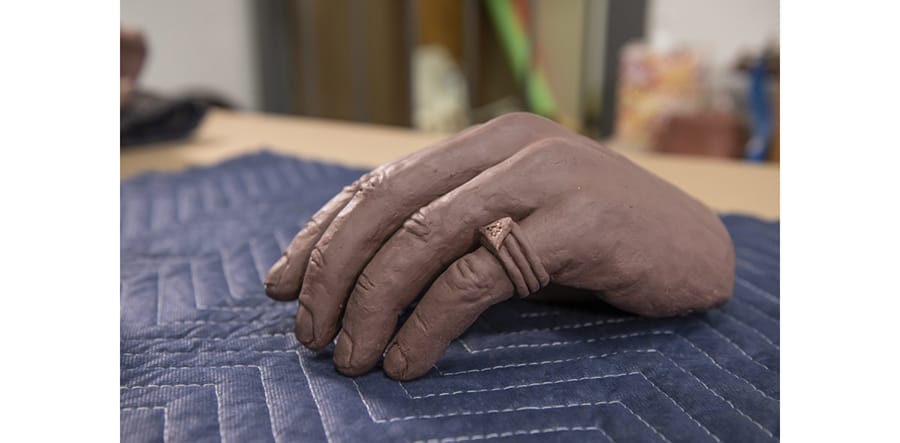 The Truman Library Institute, the non-profit partner of the Truman Library and Museum, is funding the efforts to create and install the bronze statue.
"And so today we've gotten to the point where we're just about finished with a full-scale clay sculpture that will go to approval to the Capitol," said Cassie Pikarsky, the institute's director of strategic initiatives. "And once they approve the design and the size it'll be cast in bronze."
Pikarsky said the institute has raised a little more than $300,000, with hopes to raise about $100,000 more to finish the project.
An exact location for Truman's statue at the U.S. Capitol has not yet been determined, Pikarsky said. But in recent years, new statues of former presidents have been placed in the Capitol Rotunda.
"But, of course, there's less and less room," Pikarsky said with a laugh.
She added: "We'll be working with the architect of the Capitol's office and our representatives to petition and go through that process in hopes of getting Truman there next to Washington and Jackson and Eisenhower, Ford and Reagan."