Missouri icon Harry Truman strides back into U.S. Capitol as long-awaited statue unveiled
Former President Harry Truman liked to walk. He used a walking cane to keep track of his strides and would start walking around the Washington D.C., and later Independence, doing his best to keep a pace of 120 steps a minute. Now the former Jackson County judge, U.S. senator, vice president and president is caught mid-stride in the U.S. Capitol. At a ceremony in the Capitol Rotunda Thursday, with the sun shining through the windows in the grandest room in the building, Truman's family members and a long list of politicians pulled a string and showed off a bronze likeness of a Truman captured in motion."It's great for us today to see him now in the building he loved, in a democracy that he cherished and a world that he did so much to design and create and make what it is today," said Sen. Roy Blunt. Truman's statue now stands in the cradle of American democracy, between statues of George Washington and Abraham Lincoln.The statue was designed and sculpted by Tom Corbin, who is based in Kansas City. Corbin did extensive research while creating Truman's likeness and made multiple trips to the Truman Library Institute. He got access to Truman's suits, shirts, socks, ties, shoes and glasses. He studied pictures of the former president to see how his clothes fit on him and how he folded his pocket square. He made sure the statue included Truman's World War I service pin and that his 33rd degree Mason's ring was on the right finger.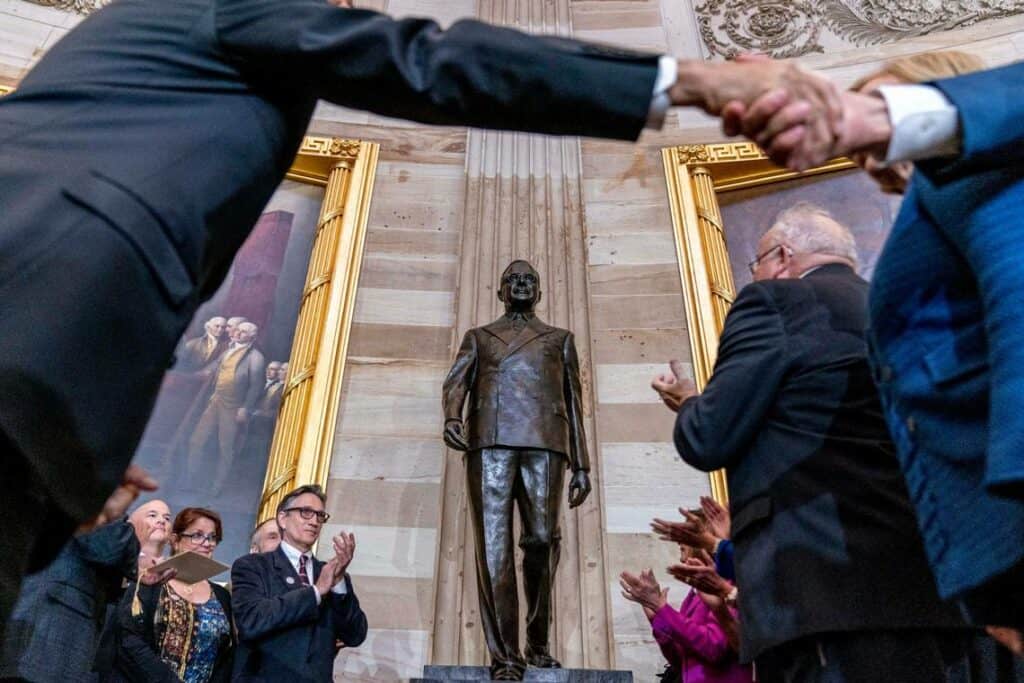 The result was a bronze statue in a permanent stride, a reference to Truman's frequent walks throughout his hometown and the U.S. Capitol. He's wearing a double breasted suit, hands swinging by his side as he walks down two steps.
Corbin told the Truman Library Institute that he wanted to make a statue that was more approachable than the others in the U.S. Capitol and one that represented motion. Alex Burden, the executive director of the Truman Library Institute, said the statue embodies the former president. "He wasn't ostentatious. He wasn't flamboyant. He wasn't kind of a media hound," Burden said. "He just rolled up his sleeves and went to work and did his business and did it in a way that he didn't need the attention that a lot of presidents needed or wanted or enjoyed during their moment in the sun."
Truman was born in Lamar but mostly grew up in Independence. Truman was the last president without a college degree. House Speaker Nancy Pelosi said she met Truman when he campaigned for her father, Baltimore Mayor and Congressman Thomas D'Alesandro, and that the former president emphasized the importance of education. Along with serving as a captain in World War I, Truman held a number of jobs — farmer, timekeeper, bank clerk, Kansas City Star mail room worker, haberdasher — before Tom Pendergast's political machine helped him get elected as a judge in Jackson County. He was elected to the U.S. Senate in 1934 as part of a wave of New Deal Democrats.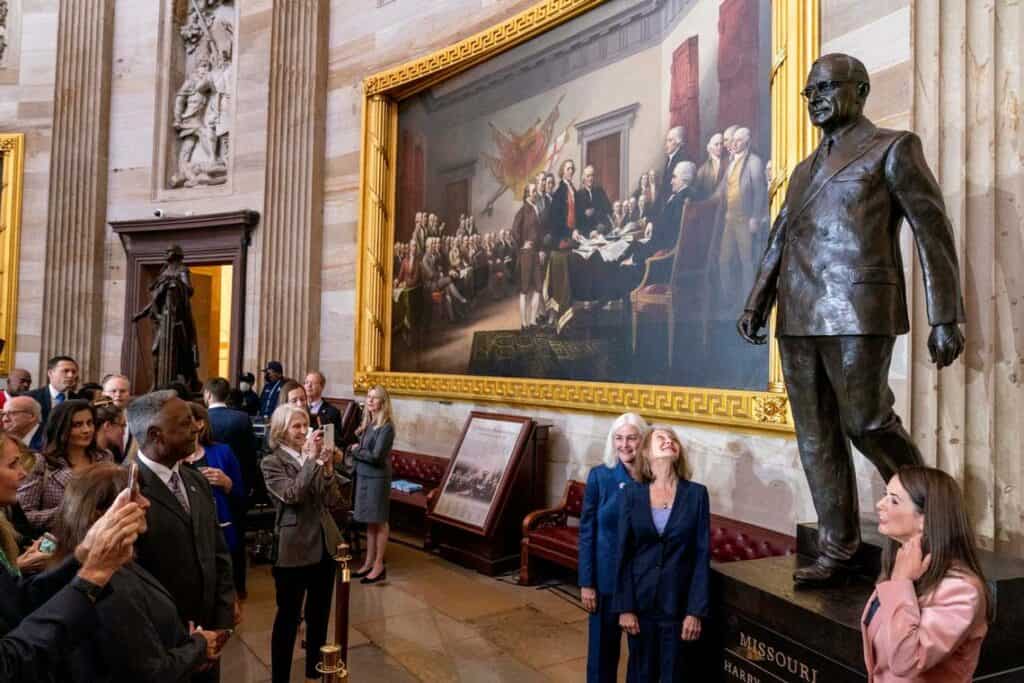 "The story of Harry Truman is really the story of Missouri," said Kansas City Mayor Quinton Lucas. "Moderation, common sense. And I think that's why you see so many people smiling today that wanted to be a part of it." When he was in his second term in the Senate, Truman won the nomination for vice president at the 1944 Democratic National Convention. He served as Vice President for just 82 days before ascending to the presidency with Franklin Roosevelt's death. Speakers at the unveiling took turns lauding Truman's accomplishments from ending World War II, the Truman Doctrine (in which he declared that the U.S. would support countries under threat of authoritarian forces) and the Berlin Airlifts (when the U.S. and United Kingdom airlifted food and supplies to Berlin when the Soviet Union blockaded access to the Western part of the city).
None directly mentioned one of his most consequential decisions — to drop the atomic bombs on Hiroshima and Nagasaki to bring an end to Pacific front in World War II. Burden said he hopes the statue will help draw out discussions about the decision and that people will inspire people to research and learn more about the reasons Truman felt it was necessary. Rep. Emanuel Cleaver, D-Kansas City, said it took 20 years to get Truman's statue to the Capitol. It replaced the statue of 19th Century Missouri Sen. Thomas Hart Benton. Cleaver specifically praised Truman for the president's executive order desegregating the military and government jobs. "With these necessary steps, President Truman helped create a Black middle class that enabled African Americans to advance in society and participate in the prosperity of this great nation," Cleaver said.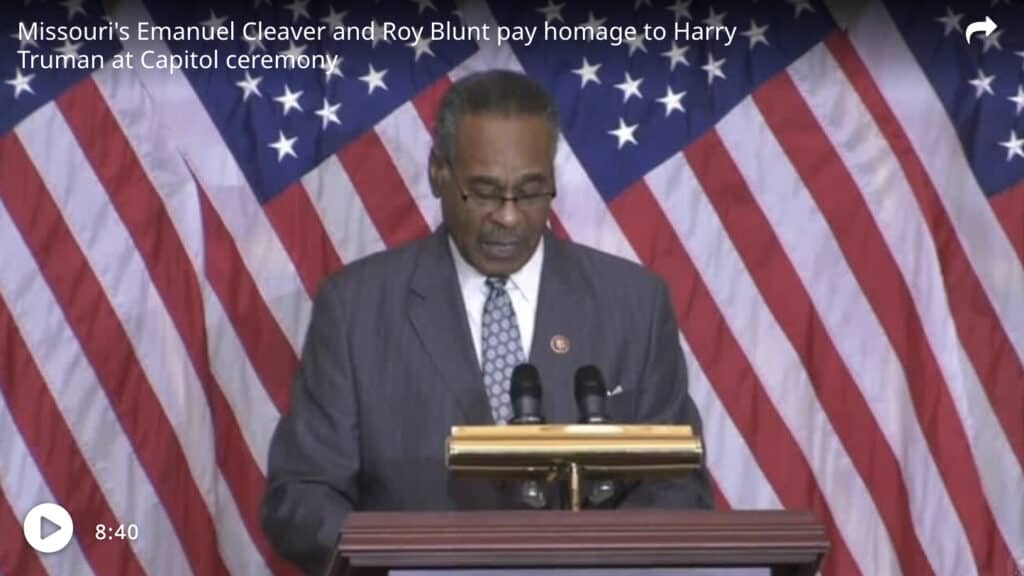 Burden says the statue will make a big difference in bringing more visibility to the country's 33rd president. The Truman Library currently gets around 100,000 visitors a year, but the Capitol often sees around 3 million (tours of the Capitol were suspended during the pandemic but have since resumed). Truman is the 10th president who's statue is in the U.S. Capitol. Along with Washington and Lincoln, he joins James Garfield, Andrew Jackson, Ulysses S Grant, Gerald Ford, Ronald Reagan and Kansas' own Dwight Eisenhower. His statue replaces one of Alexander Hamilton in the rotunda, who was moved down to the Hall of Columns on the first floor of the building. Truman left office with one of the lowest presidential approval ratings in modern history. But over time, Americans' regard of his presidency grew and the Truman Library Institute often mentions that he's now ranked 6th in the best presidents of all time. Clifton Truman Daniel, Truman's oldest grandson, said that while his grandfather was modest and slightly embarrassed by statues, that it was an honor. "I leave you today with my family's deep gratitude and a quote that illustrates those qualities in my grandfather," Daniel said. "'Do your duty and history will do you justice.'"