KC Magazine
July 2012
Article: Home: Ugly Room Contest (p. 66)
Text by KC Magazine Staff
Rendering by Alan Karlin (alankarlindesign.com)

View product page
---
Southern Living
June 2012
Article: High Definition (p. 76)
"Sisters and designing duo Kelli Ford and Kirsten Fitzgibbons transformed a Dallas house with bold color, fresh fabrics and clever decorating details"
Text by Mimi Read
Interiors by Kelli Ford and Kirsten Fitzgibbons
Photography by Lisa Romerein

View product page
---
KCH&G 43rd Symphony Designers' Showhouse
May 2012
Article: Den for Generations and Genders (p. 50)
Interiors by Alan Karlin Design, Alan Karlin and Elizabeth Ezra (alankarlindesign.com)

View product page
Article: Master Suite Porch (p. 54)
Interiors by Interior Directions, Susan Prestia

   View Tree Branch product page  

View Alexandra product page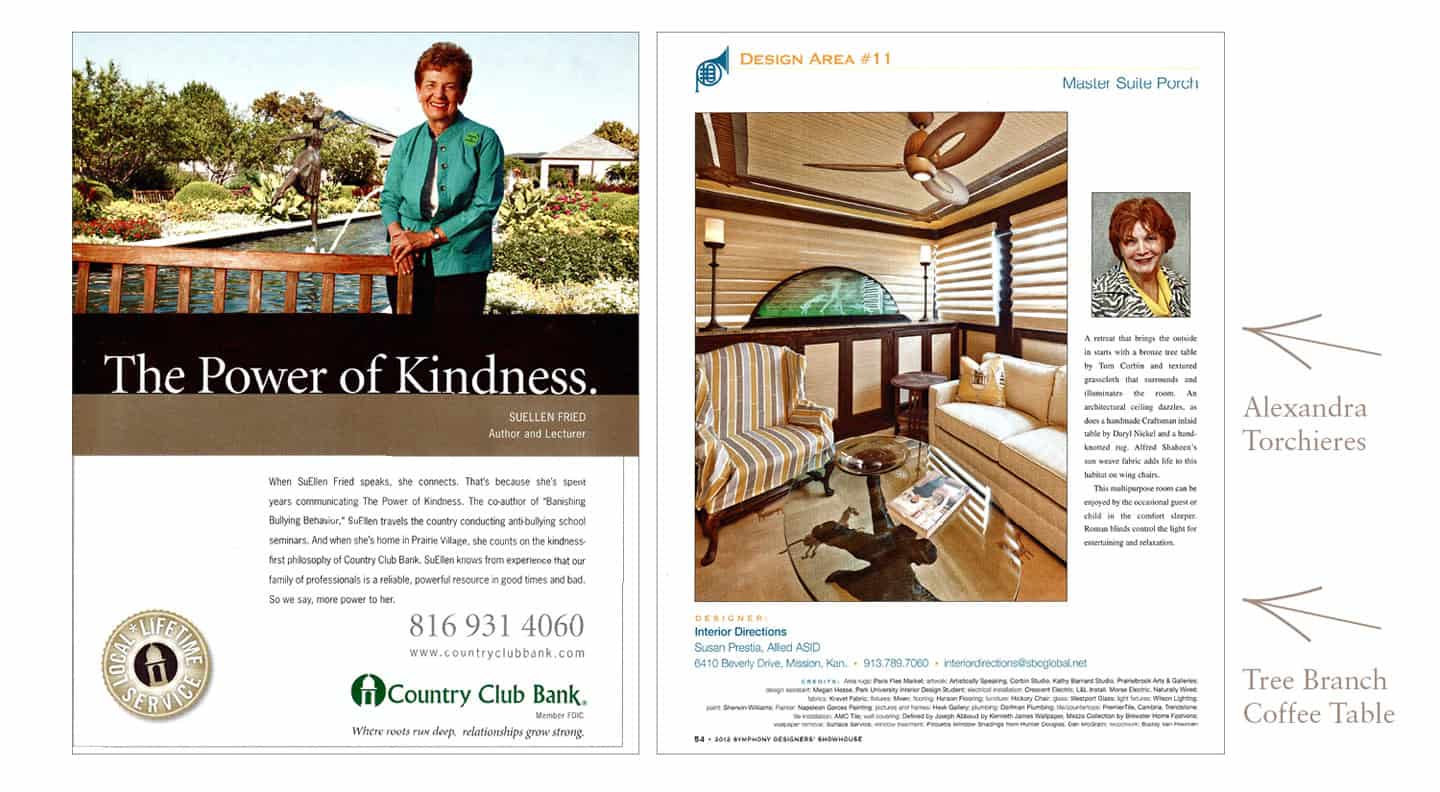 ---
Decor
Spring/Summer 2012
Article: Strong Viewpoint (p. 72)
"A neutral palette minimizes distractions in this Miami apartment, allowing spectacular vistas and brash brushstrokes to create color that's easy to life with."
Interiors by Nestor Santa-Cruz

View product page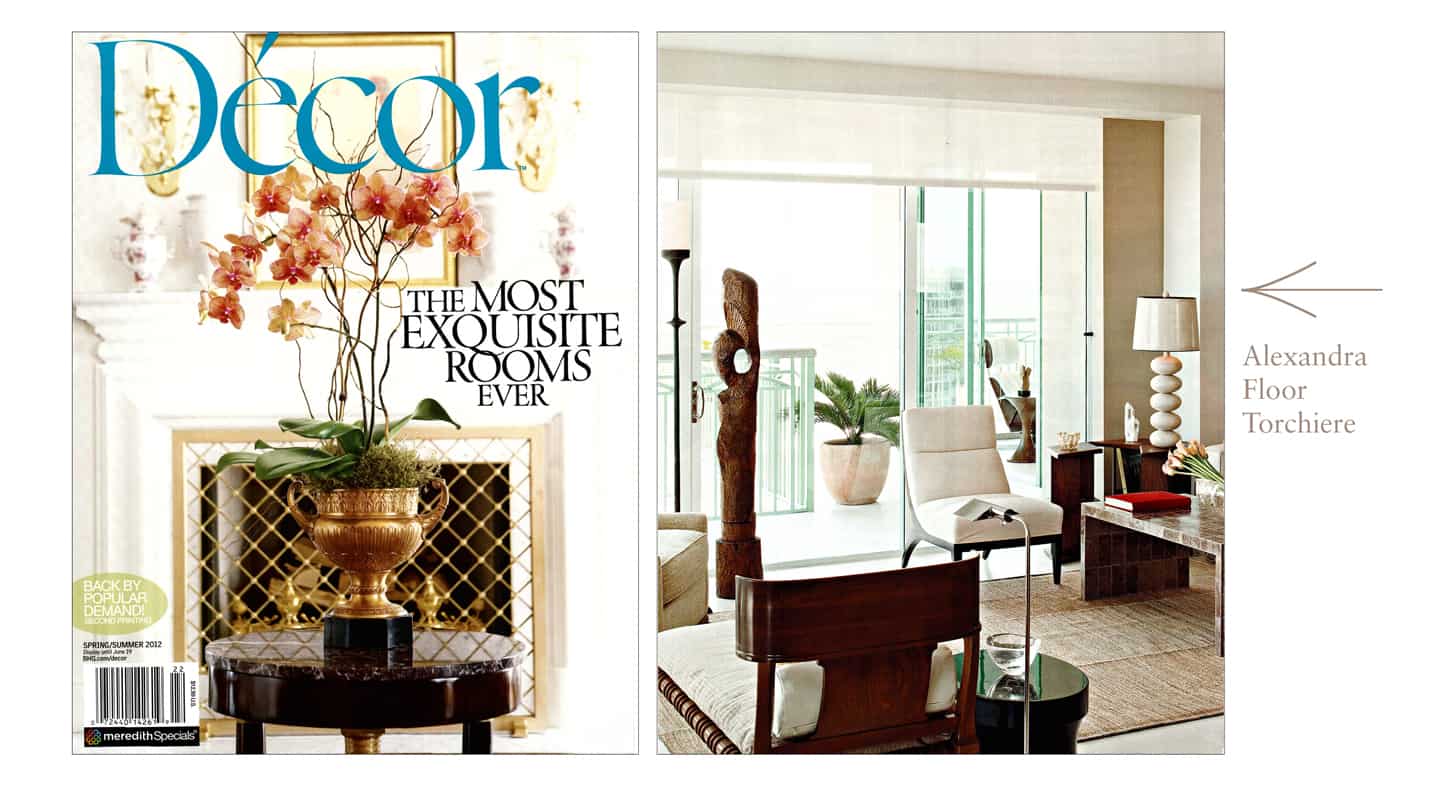 ---
Architectural Digest
April 2012
Article: A Perfect Union (p. 122)
"At her Regency-style house in Atlanta, Suzanne Kasler makes an up-to-the-minute statement grounded in history"
Text by Jen Renzi
Interiors by Suzanne Kasler
Photography by Pieter Estersohn

View product page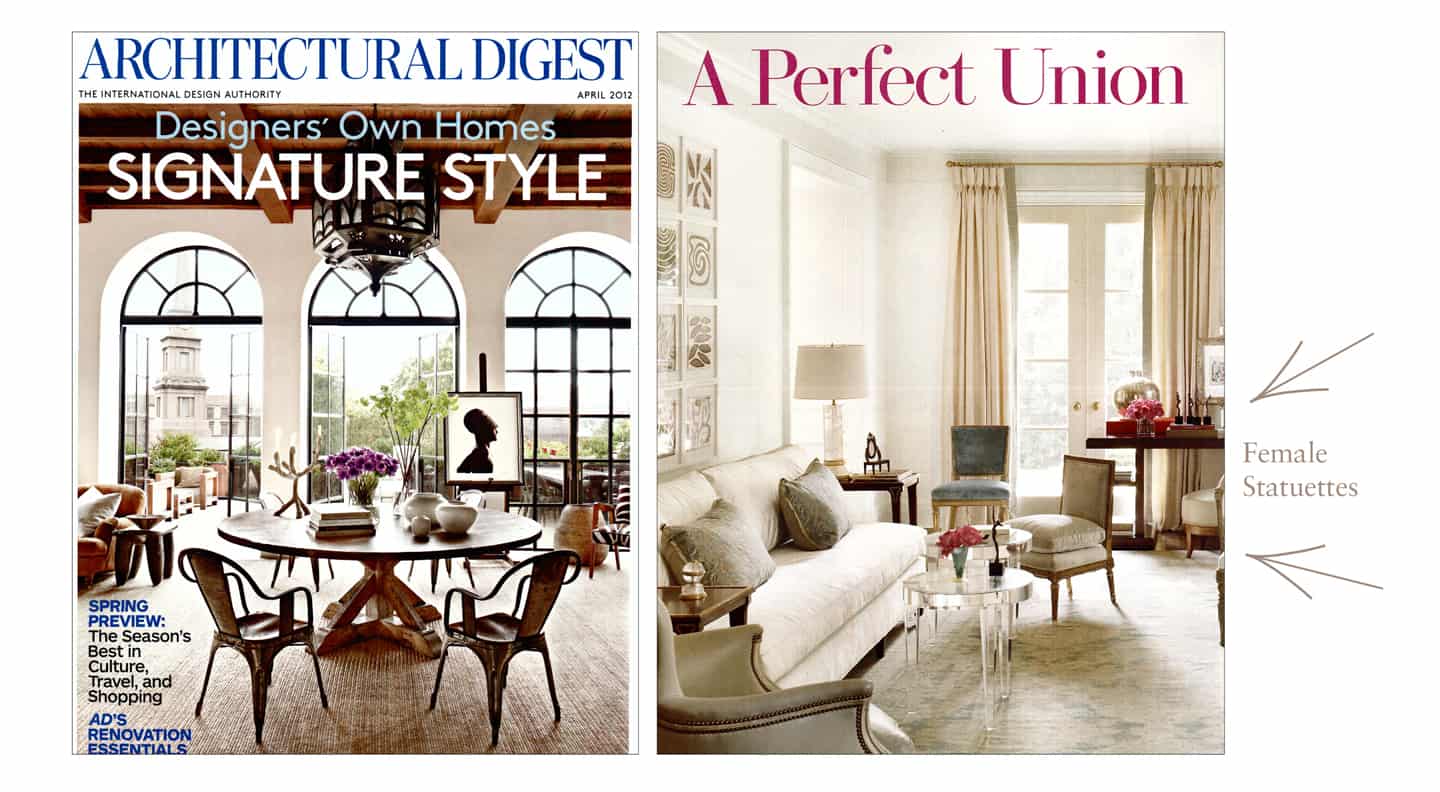 ---
Veranda
March-April 2012
Article: Spare Beauty (p. 126)
"A pared-down Florida villa proves comfort is the highest luxury and less is truly more"
Text by Jeff Turrentine
Interiors by Stan Topol
Photography by Max Kim-Bee

---
Architectural Digest
February 2012
Article: Wish Fulfillment (p. 104)
"When a San Francisco couple land an apartment in their dream building, decorator Suzanna Tucker and architect Andrew Skurman complete the fantasy"
Text by Peter Haldeman
Interiors by Suzanne Tucker
Photography by Pieter Estersohn

View product page

---
Elle Decor
December 2011
Article: High and Mighty (p. 94)
"In search of the perfect family getaway, a Nashville couple turn to Ray Booth to bring a whole new aesthetic to a traditional Montana ski lodge"
Text by Ingrid Abramovitch
Interiors by Ray Booth
Photography by Pieter Estersohn

View product page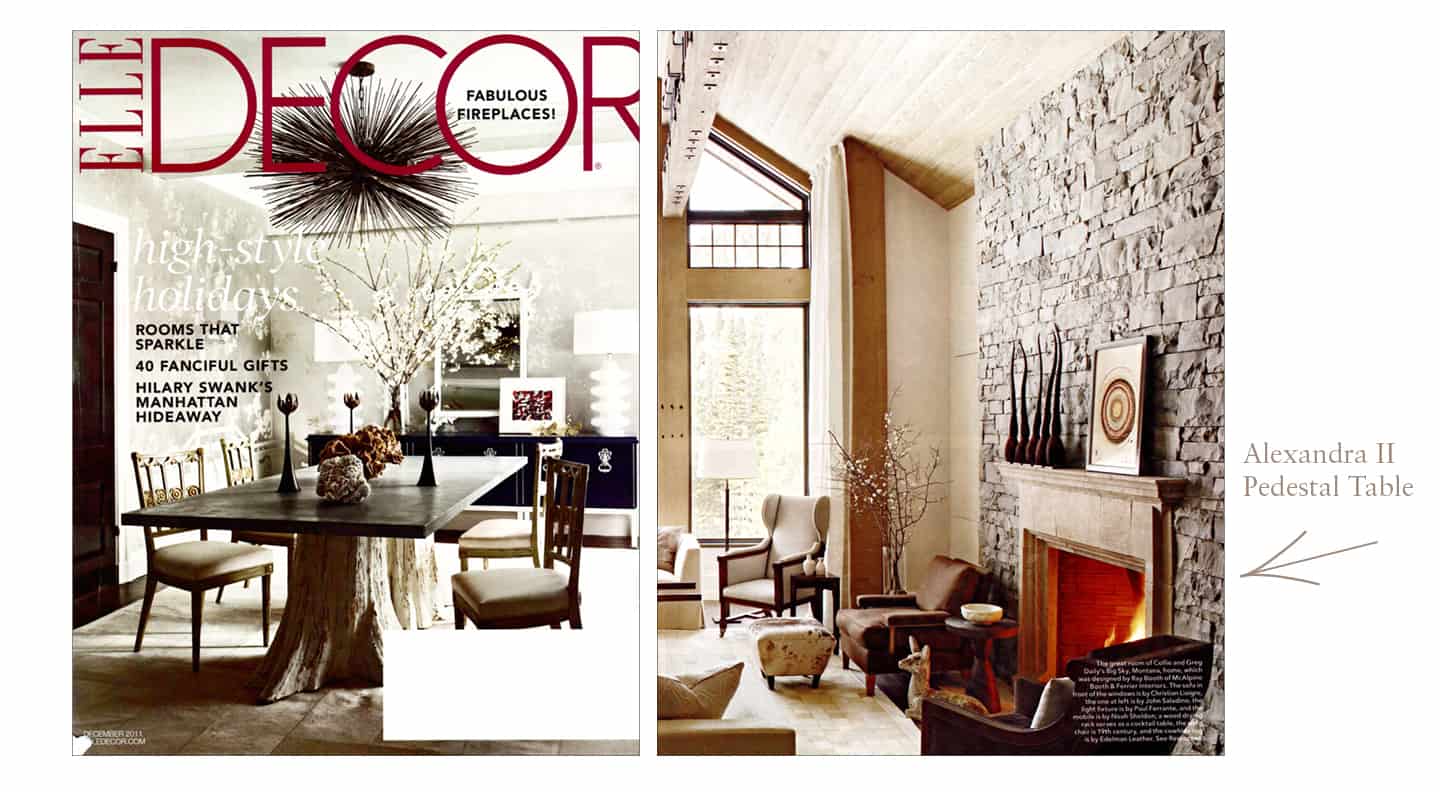 ---
Interior Design
Fall Market Tabloid 2011
Article: Accessories
"Modern Primitive, There's something old, something new to these rough-hewn accents"

View product page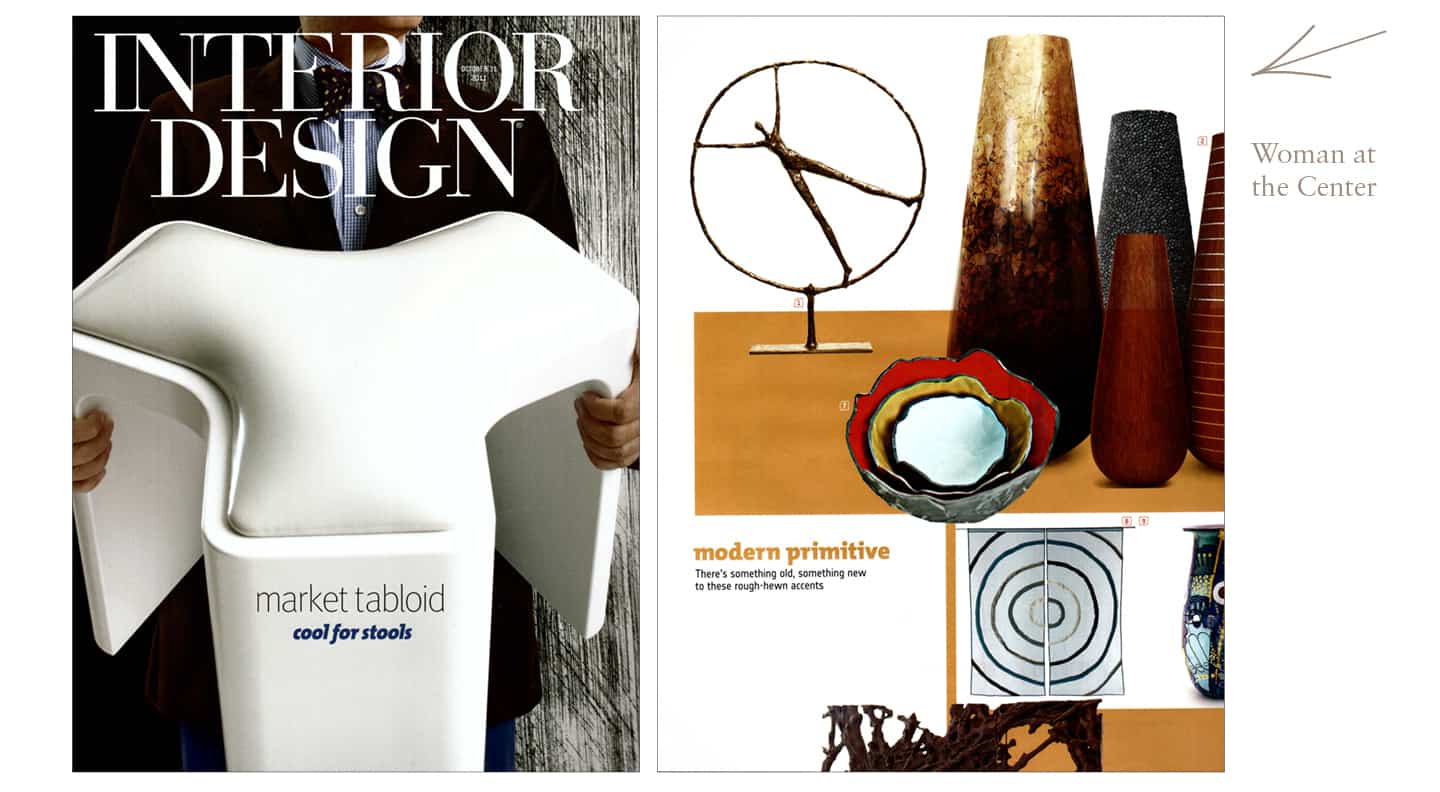 ---
Spaces Kansas City
Holiday 2011

View product page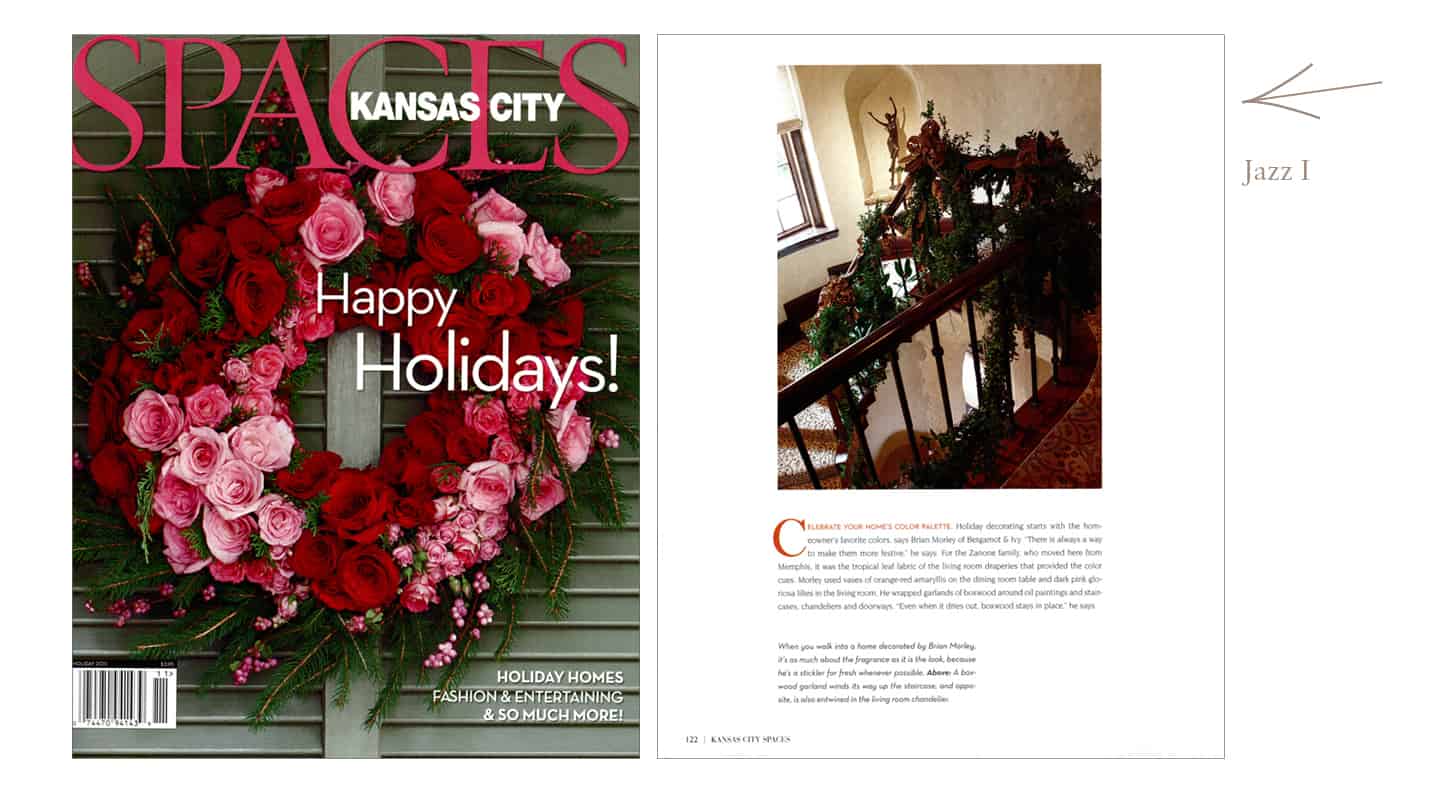 ---
BH&G Renovation Style
Winter 2011
Article: 12 Ways to Spruce Up Your Fireplace

View product page
---
KC Magazine
September 2011
Article: Perfect Harmony
Text by Bob Greenspan
Interiors by Kyle Wells Design
Photography by Bob Greenspan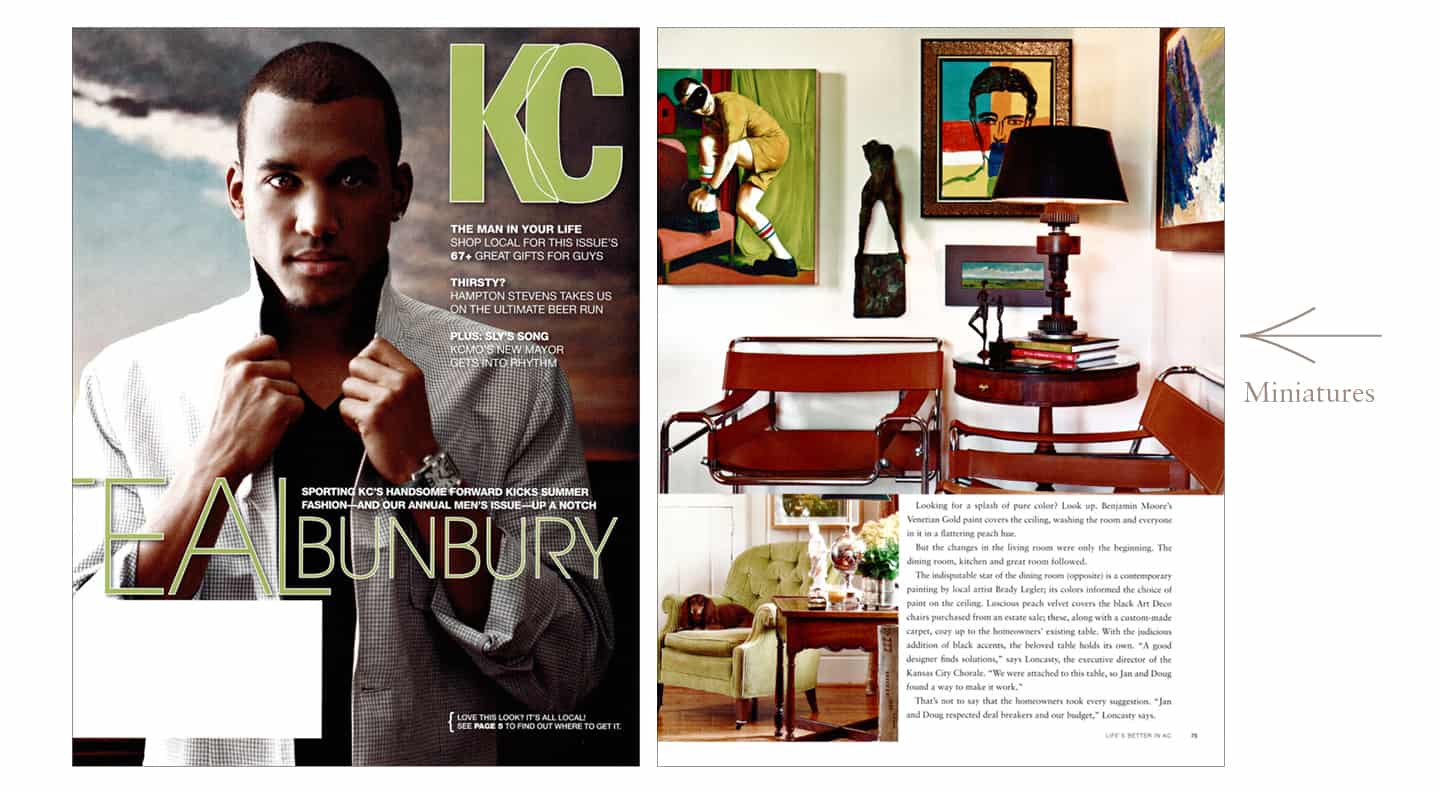 ---
Architectural Digest
September 2011
Article: Elements of Surprise (p. 149)
"In the hands of designer Robert Couturier, a proper English manor by architect Edwin Lutyens gets a smart, sophisticated, and slightly daring update"
Text by Anthony Gardner
Interiors by Robert Couturier
Photography by Tim Beddow
View product page
---
The New York Times Style Magazine
Article: Profile in style, Erica Reid
View product page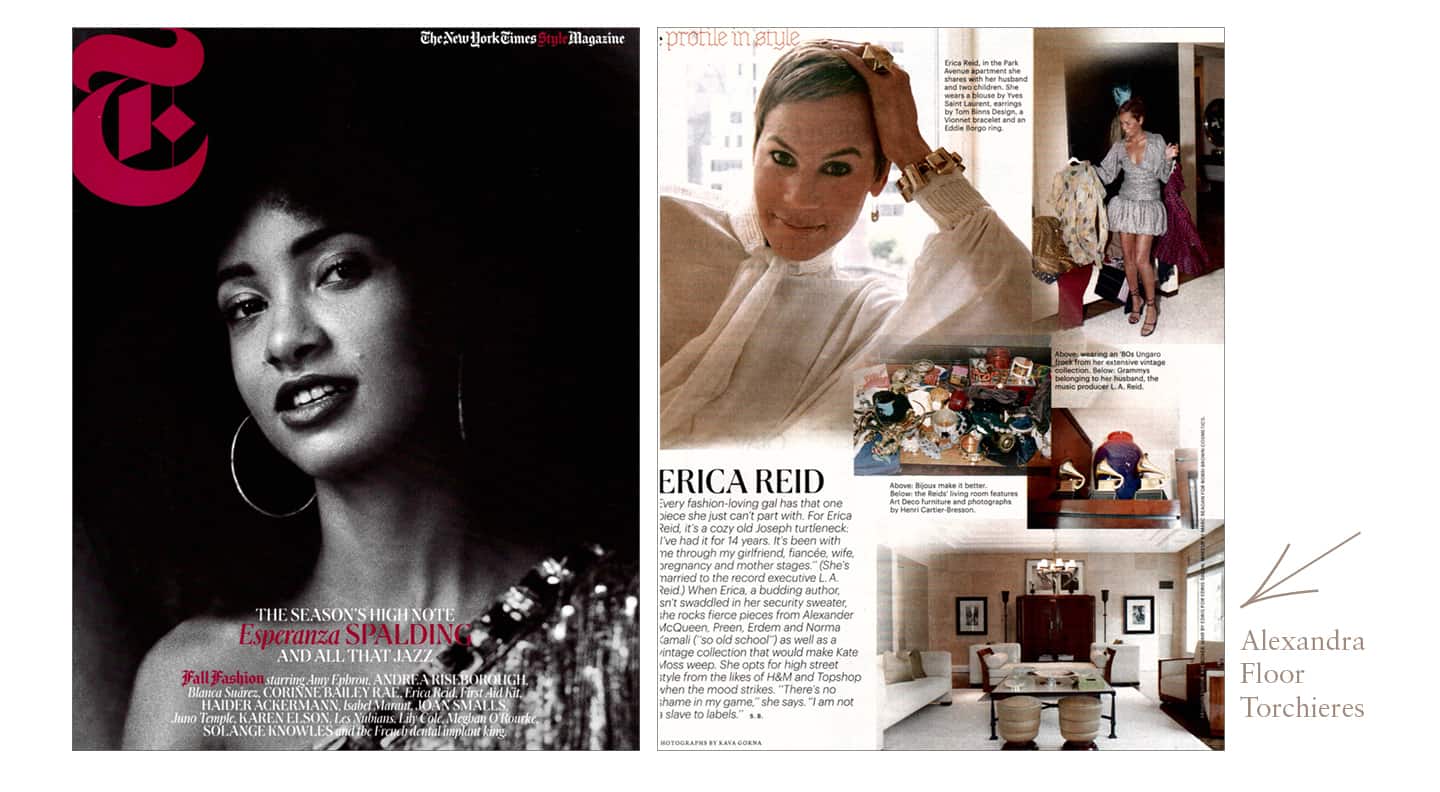 ---
The Independent
August 2011
Article: Sculpting Young Audiences
Shown: Open Windows, exclusively for Kansas City Young Audiences
Contact Mary Needham for more information or to purchase, 816-531-4022  mneedham@kcya.org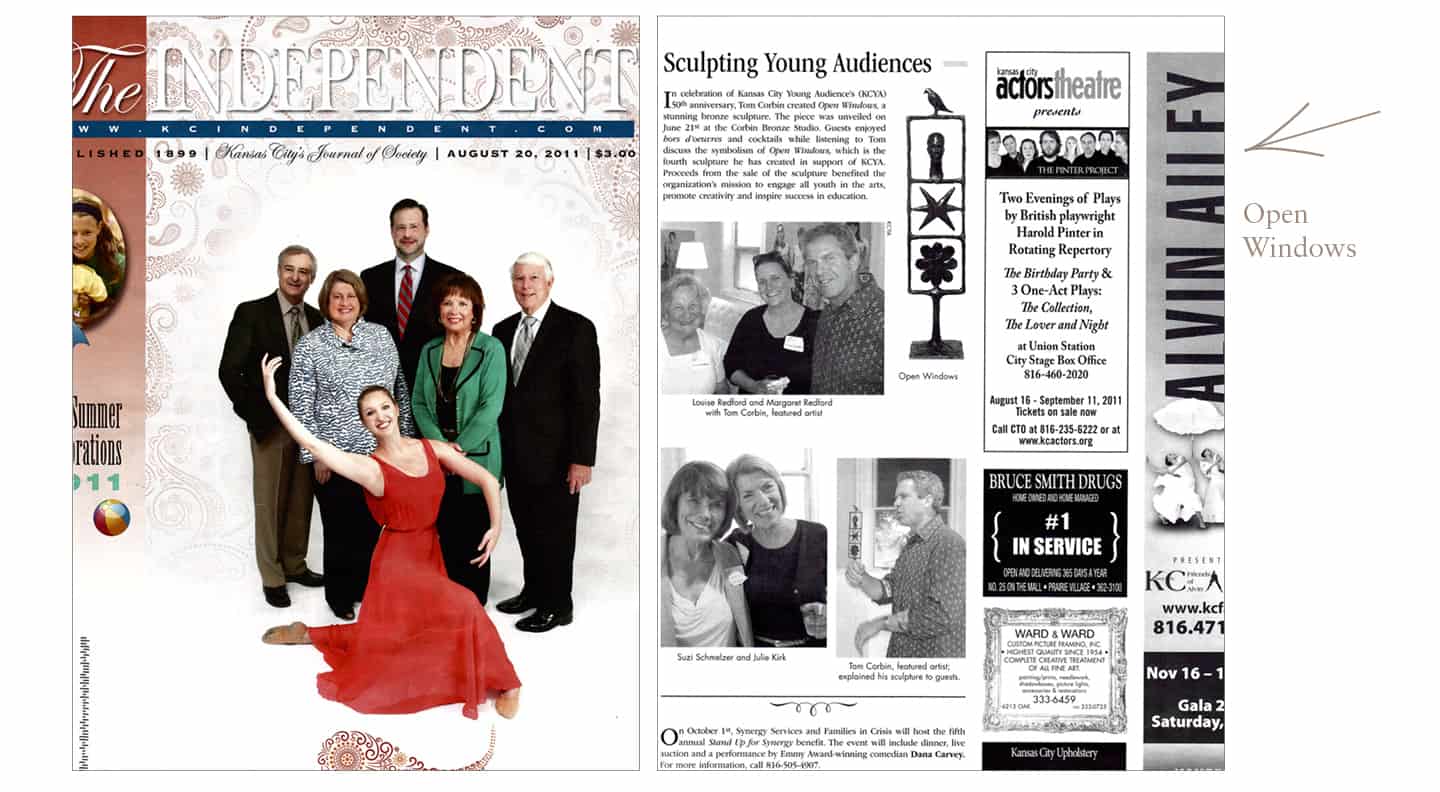 ---
HGTV Selling New York
Episode: High and Mighty
Shown: Horse and Rider (sold out)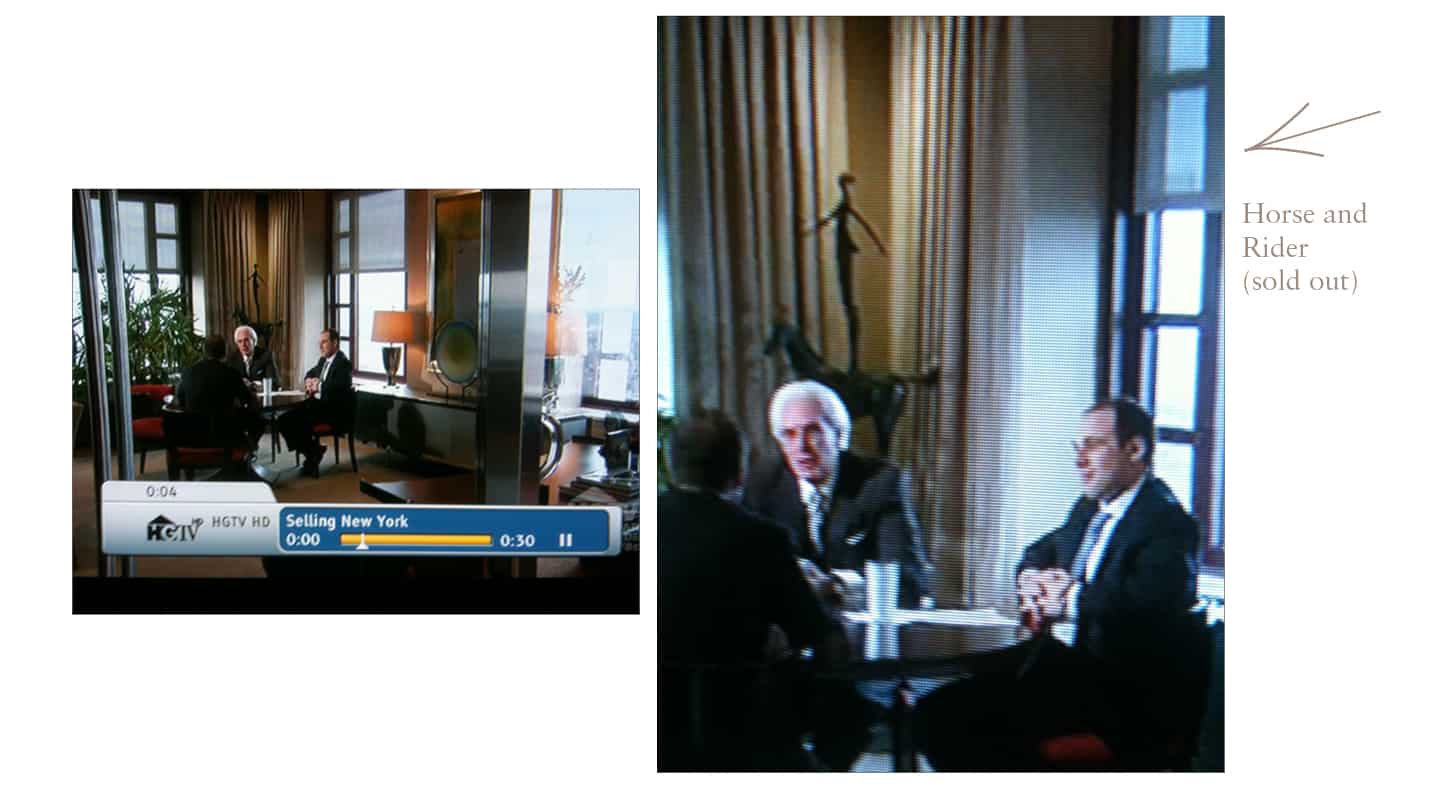 ---
Paramount Pictures, Directed by Michael Bay, Starring Shia LaBeouf and Rosie Huntington-Whiteley
Chosen by Transformers set designers at Holly Hunt in Chicago, Tom Corbin's Renaissance Man and Woman, Man and Woman Study and Pear as a Figure appear in Dylan's Chicago condo (played by Patrick Dempsey).
The actual limited edition sculptures used on set, unscathed by the Decepticons, are available for purchase from Holly Hunt.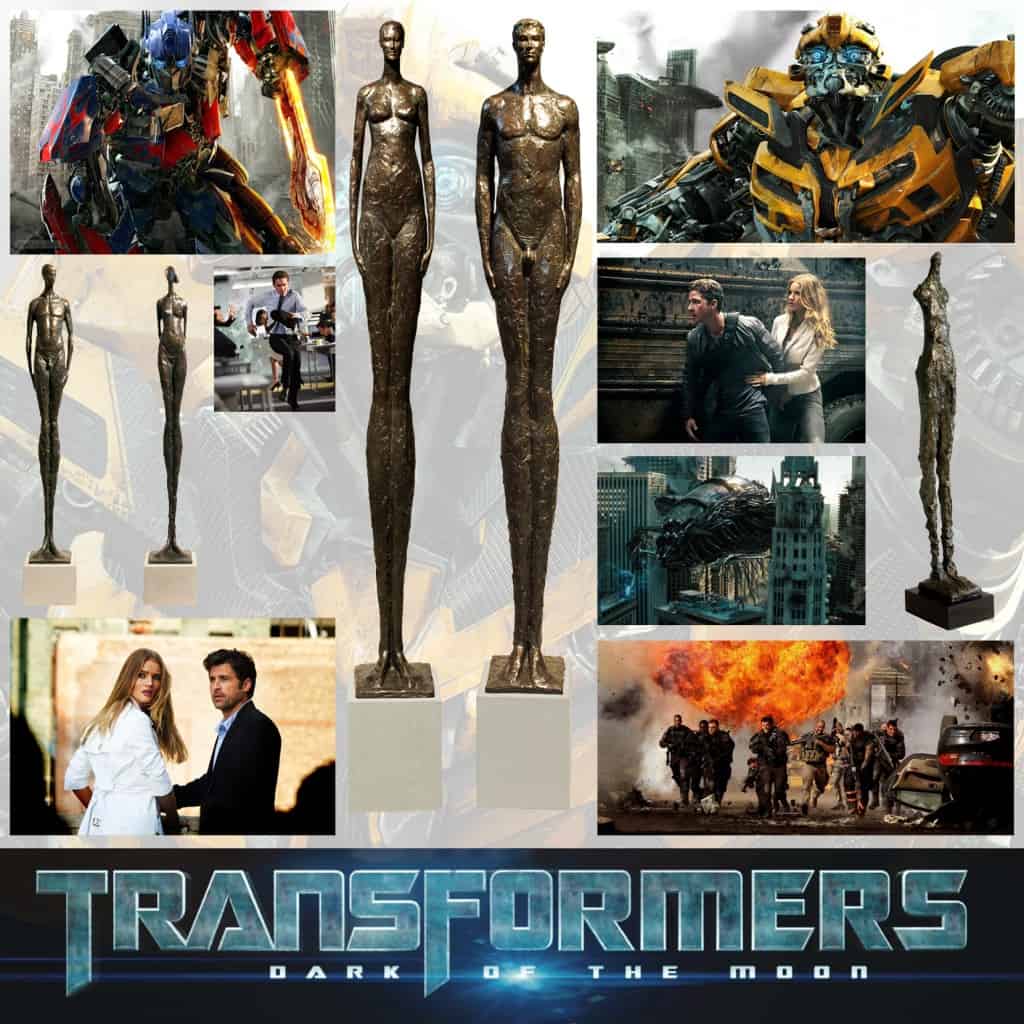 ---
KC Magazine
May 2011
Article: Gardens (p. 33)
"In honor of National Public Gardens Day on May 6, we visit two of Kansas City's most beautiful outdoor spaces. Once you tour these cultivated acres in person, you'll be inspired to recreate miniature versions in your own backyard."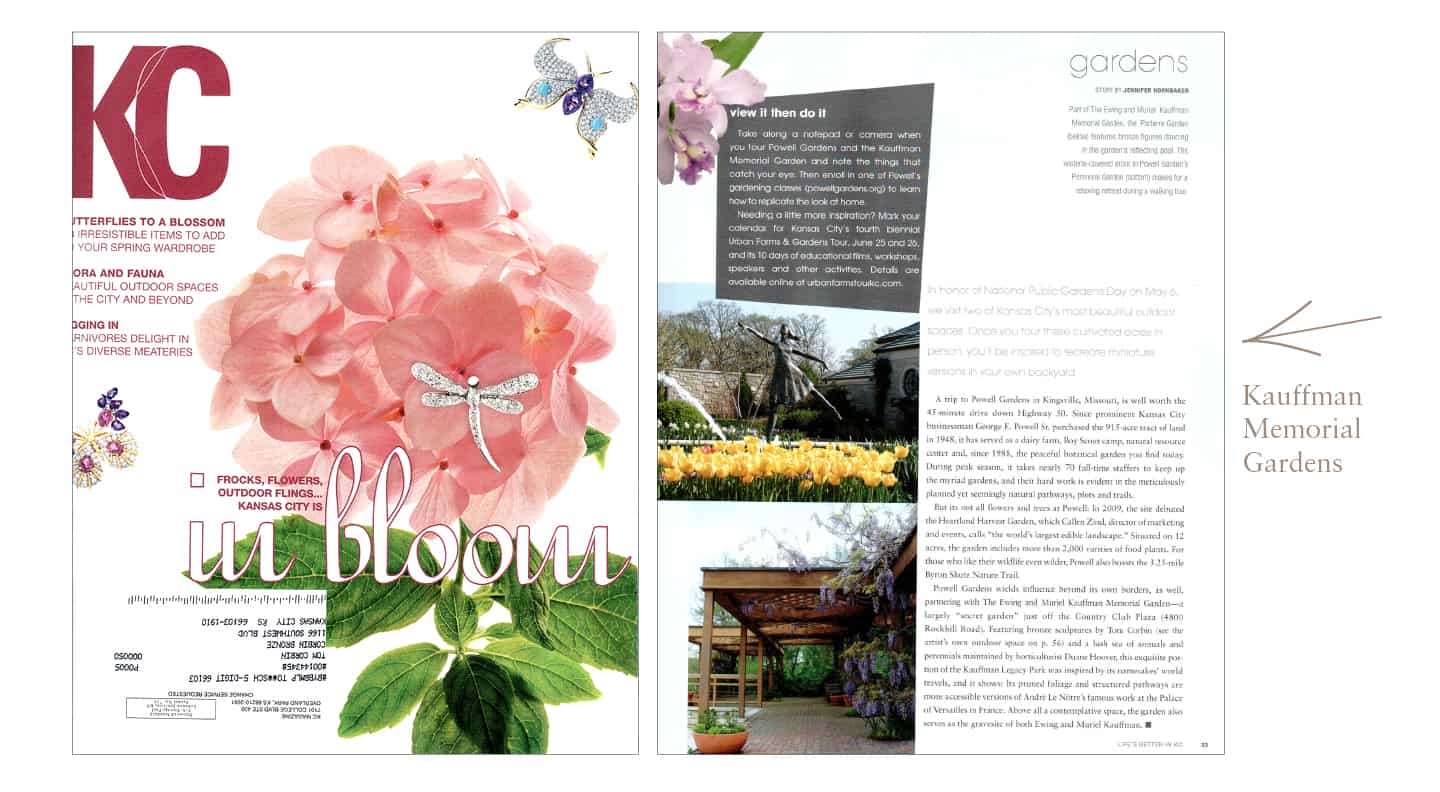 May 2011
Article: Spaces (p. 56)
"After sculpting for 25 years and painting for eight, Tom Corbin is still on fire. Good thing he moved his studio and gallery into a repurposed fire station—complete with a working pole and gated sculpture garden."  Read on HERE
Text by Kate Leibsle
Photography by Ron Berg and Corbin Studio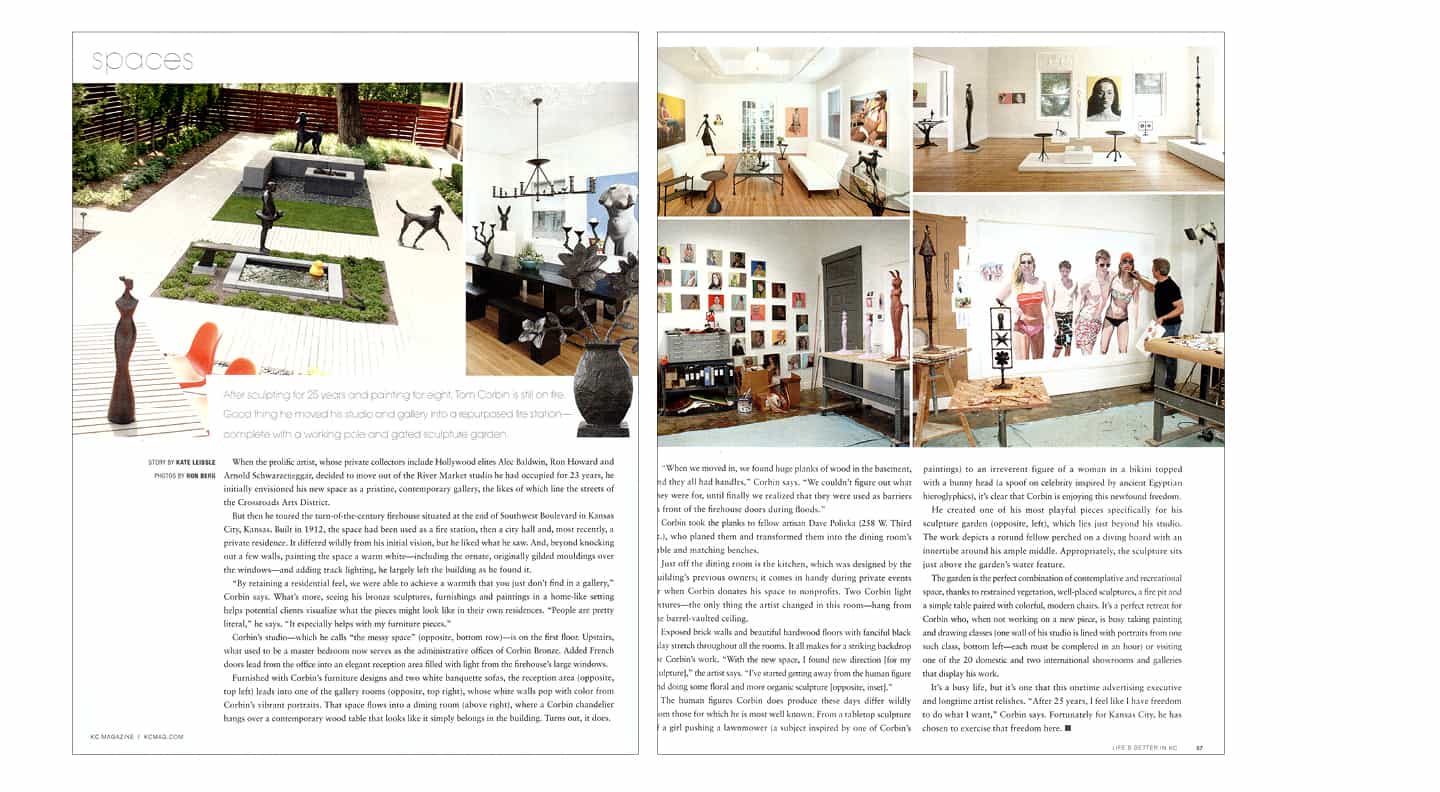 ---
The Independent
April 2011
Article: A Night at the Museum
The Kansas City Young Matrons held the Magic of Giving: A Night at the Museumon January 29th at the Kemper Museum of Contemporary Art. John Walsh, host of America's Most Wanted, was the featured guest, and local artists, Tom Corbin, Philomene Bennett and Jeff Hanson, displayed their artwork. Peggy and Terry Dunn were the honorary chairmen, and Marsha Schweiger and Peggy Jones served as co-chairmen. Proceeds supported The Ali Kemp Educational Foundation.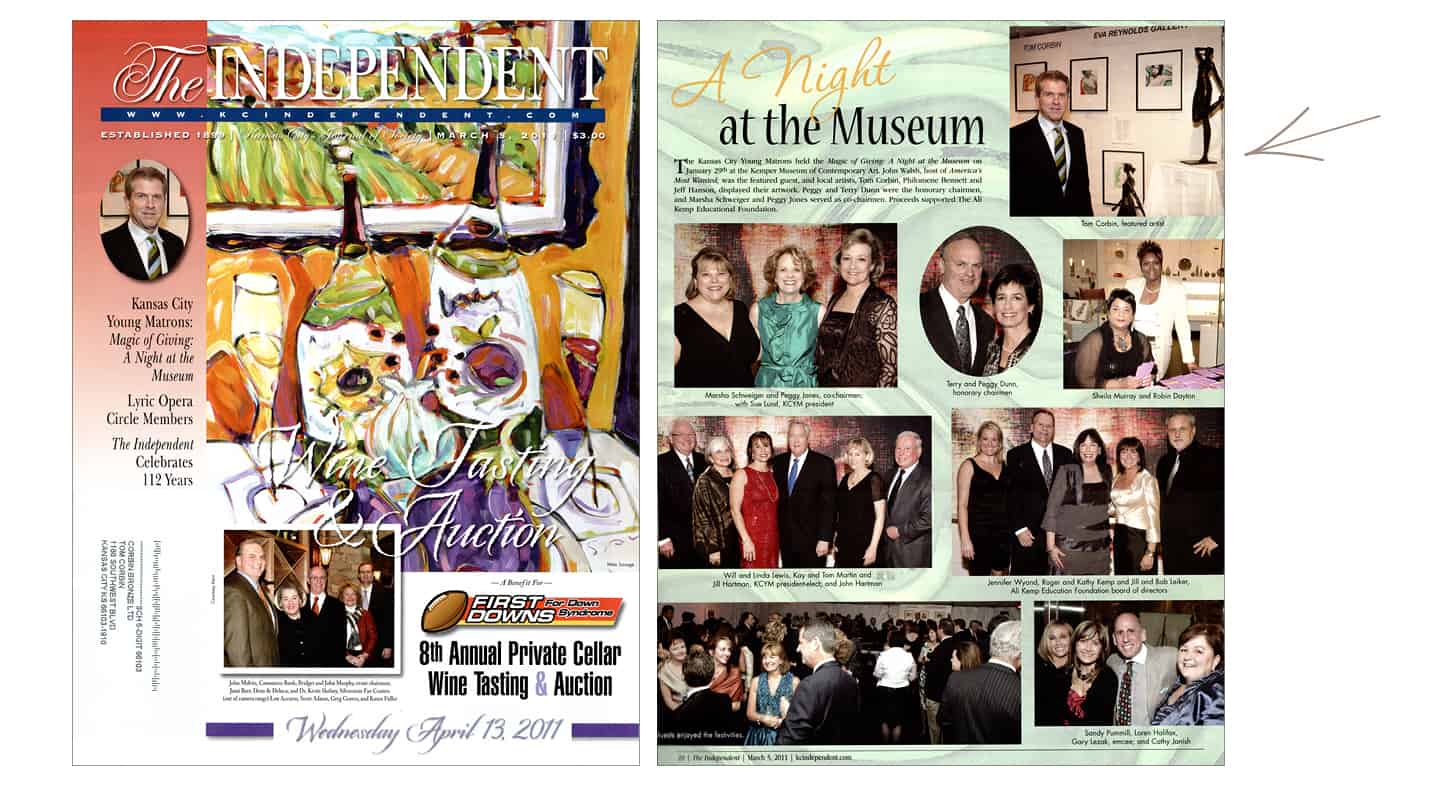 Our Johnson County gallery partner, Eva Reynolds, is shown below. Eva represents Bennett, Hanson and Corbin, the featured artists for the event.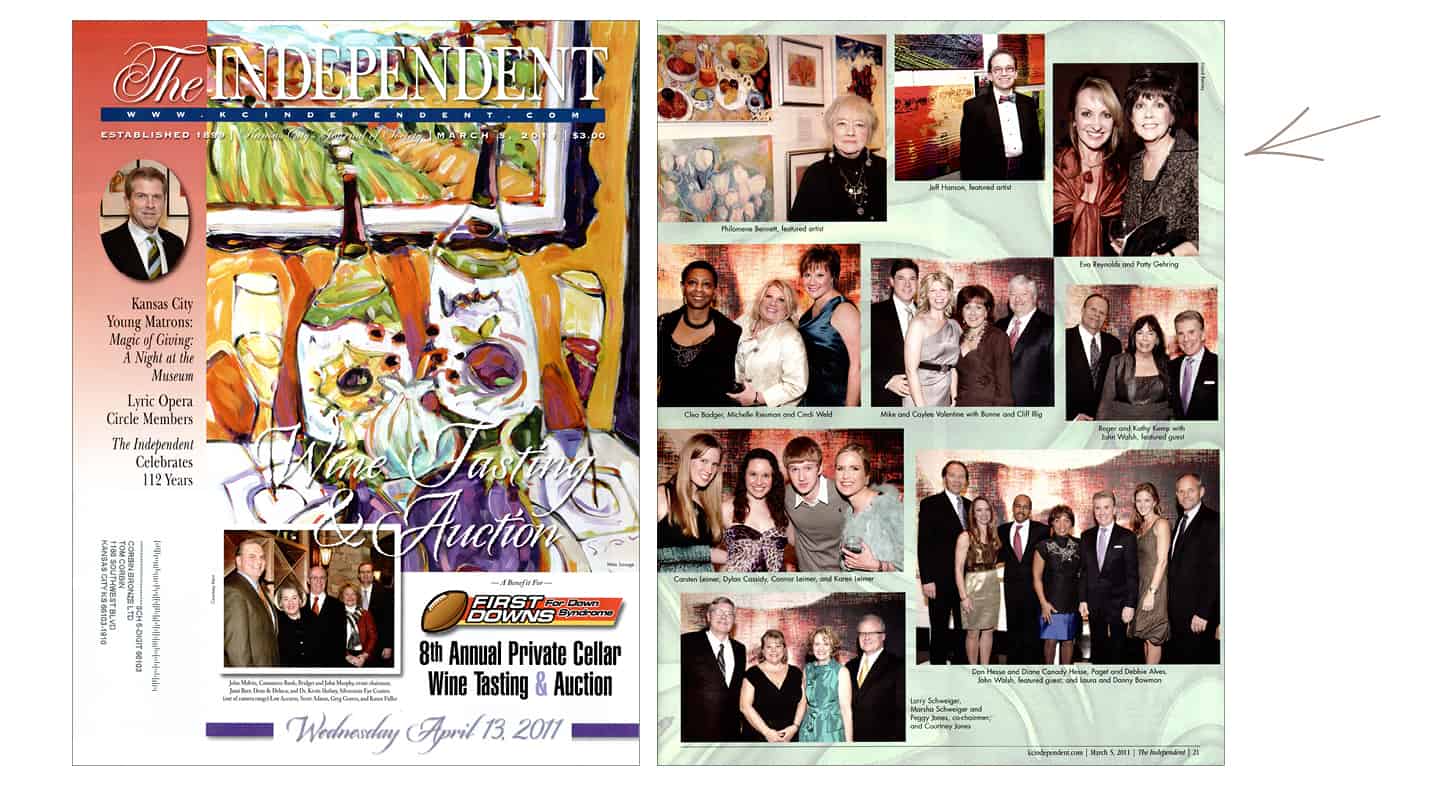 ---
KCH&G Magazine
Article: Metamorphosis (p. 42) 2011 Symphony Designers' Showhouse
April 2011
Second-Floor North Porch, "A Sustainable Space for the Thinking Man," by Susan Prestia and Clay Lyon
---
Spaces Magazine
March 2011
Article: Bronzed Beauty
"Kansas City is home to one of the world's premier bronze sculptors in native son Tom Corbin. And while some of his jaw-dropping larger pieces may fall quote firmly outside the category of "little" luxuries, this lovely miniature piece, Girl Waiting, is both charming and surprisingly affordable—just the thing to grace any home."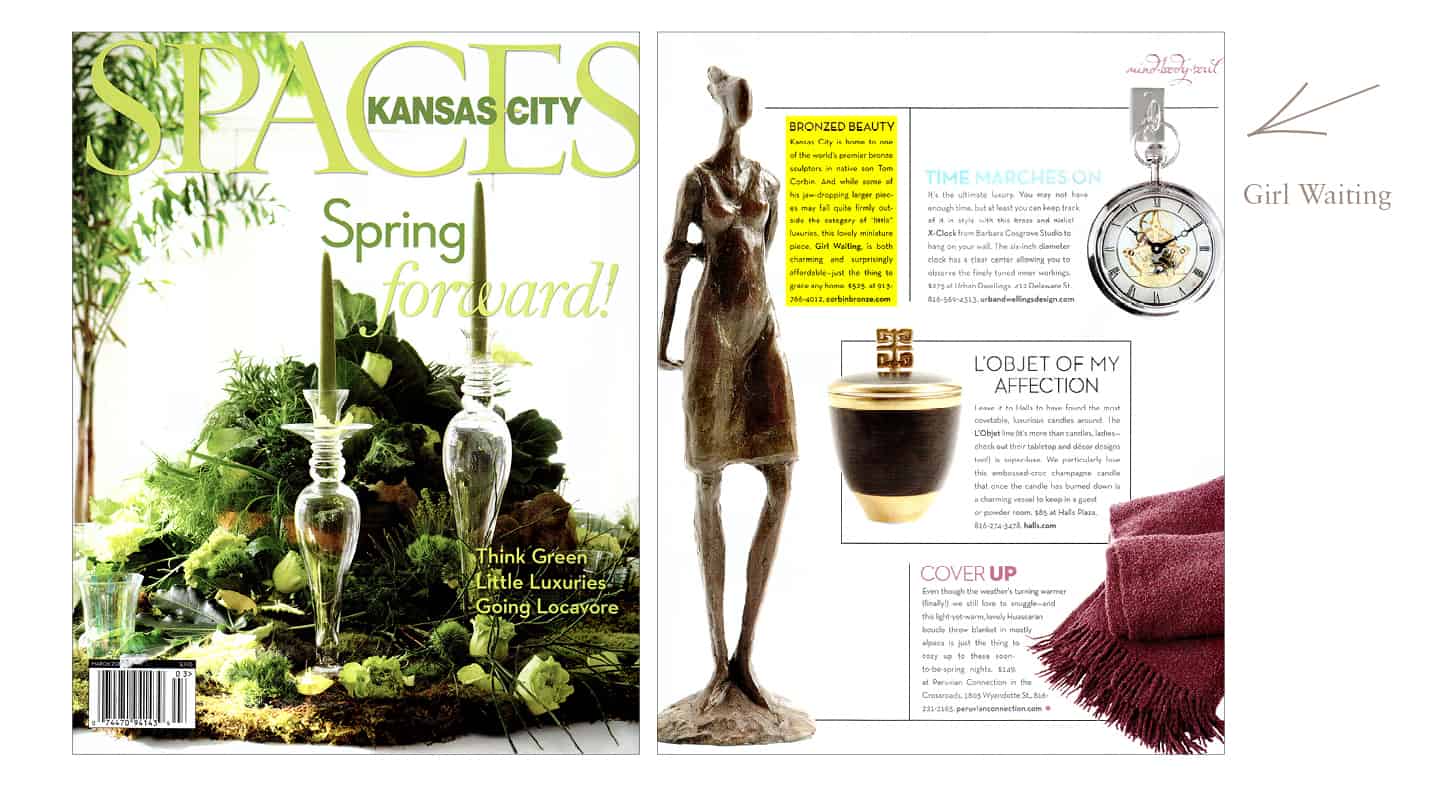 ---
Corbin on Primetime TV
As seen on The Bachelor Episode 8, Brad Womack visits the hometown of Chantal O'Brien. The Alexandra I Pedestal Table by Tom Corbin is seen when Brad speaks with Chantel's father, Mike O'Brien, in their Seattle home.

View product page

---
Corbin on Primetime TV
And in Law and Order SVU episode "Pursuit," Tom Corbin's Male and Female Nudes are spotted in the home of Alicia Harding (Debra Messing).

---
Chesapeake Home
December 2010
Article: Fresh Impressions (p. 14)
"Light It Up. Brighten up any room this holiday season with candles set in these unique candle holders."

View product page